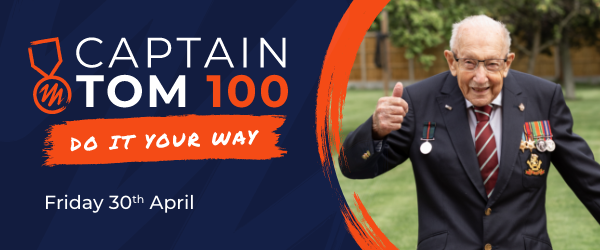 Friday 30 April 2021 would have been Captain Sir Tom Moore's 101st birthday and the one year anniversary of the extraordinary celebrations following thenow famous 100 laps of his garden that raised and incredible £38.9 million for the NHS.
Tom's simple message of hope – "Tomorrow will be a good day" – resonated around the globe during some of our darkest days.
Captain Sir Tom's family are inviting the world to celebrate his life with an event that everyone can get involved in to celebrate his generosity of spirit, the hope and joy he brought to millions, and his sense of fun.
That event is the Captain Tom 100.
From Friday 30 April to Monday 3 May, we are asking everyone to dream up a challenge based around the number 100 and fundraise or donate to SaTH Charity.
It can be anything you like, There are no rules (apart from Government guidelines on the roadmap out of lockdown) and it's open to
everyone. It could be walking 100 steps or running 100 metres, scoring 100 goals or baking 100 cakes. Building 100 sandcastles or writing a 100-word poem – anything at all, inside or outside. Just remember to do it your own way!
Get involved
It's so simple. All you need to do is dream up your Captain Tom 100 and set up your fundraiser by clicking the 'Start Fundraising' image below. Then share your 100 on social media, using #CaptainTom100.
Please also follow us on social media: Instagram @sathnhs and Twitter @SathCharity