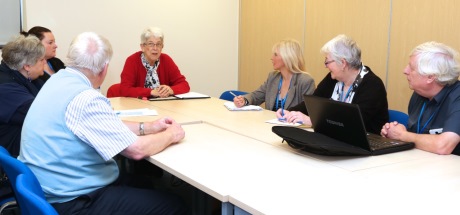 Clinical audits are surveys carried out to find out if healthcare is being provided to the best possible standards.
When a survey or audit is carried out both health care staff and patients can learn about:
The quality of treatments
How patients feel about how they were treated or
How well a service is doing
More importantly, clinical audits discover how health services can be improved.
Background
The panel was set up in 2013, with the aim of including a patient perspective on the Trust's clinical audit projects.
There are currently six panel members drawn from various different backgrounds from across the county. The panel meets regularly throughout the year to discuss a wide range of topics – for example, projects for inclusion in the clinical audit programme, progress of audits currently undertaking and updates on actions arising from audits.
Prior to undertaking their role, panel members receive the necessary information and straight-forward training provided by the clinical audit team.
Who we are
Members:
Barry Powell (Chair)
Karen Mills (Deputy Chair)
Martin Beardwell
Jane Chaplin
Clare Humphreys
Fiona Hunter
Terry Seston
Clinical Governance Manager: Sally Allen
Secretary: Jane Burgess
What we do
The purpose of the panel is to find out how patients feel about the quality of their care. The panel carry out patient focussed audits at the Princess Royal & Royal Shrewsbury Hospitals, and have input into the hospital's Clinical Audit Programme. Members of the panel also sit on the Clinical Audit Committee.
Achievements
The Clinical Audit Patient Panel won a national award in 2014 from HQIP, the Healthcare Quality Improvement Partnership for working to improve patient care in the Trust.
In September 2014, the Clinical Audit Patient Panel won the SaTH 'Make it Happen' award.