SaTH Charity is delighted to offer you the opportunity to recognise a deserving colleague with a special NHS 75 Thank You Daisy
Would you like to thank a member of staff that has gone the extra mile? Want to recognise a colleague for their exceptional work?
The Thank You Daisy is a token of appreciation which SaTH Charity are giving to nominated staff who have going above and beyond at SaTH.
A heartfelt message of thanks to a colleague is a wonderful way to show appreciation to someone who has been a supportive or have gone the extra mile to support or patients or each other.
SaTH Charity will arrange to present the NHS 75 Thank You Daisy, along with a personalised thank you card, to the nominee, notifying them of who nominated them. To nominate a colleague, kindly complete the form below. All nominees will receive a card as a token of recognition.
Don't delay, nominations close on June 7th.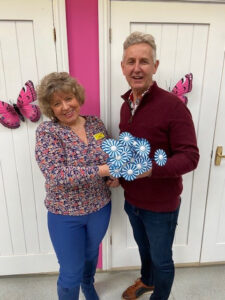 The daisies have been created by the British Ironworks. Pictured: Julia Clarke, Director of Public Participation, receiving the daisies from Clives Knowles, Chairman of the British Ironworks.