20 September 2023
A message from our colleagues at NHS Shropshire, Telford and Wrekin
Almost a quarter of a million people in Shropshire and Telford & Wrekin can book their life-saving autumn Covid vaccine online from today (18 September) as the NHS steps up its winter vaccination programmes early in response to the risk of the new Covid variant.
Anyone eligible can book their Covid vaccinations via the NHS website, by downloading the NHS App, or by calling 119 for free if they can't get online.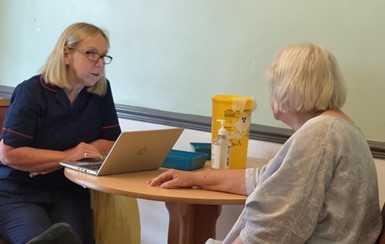 Thousands of adults who are eligible for winter vaccines – including all aged 65 and over, pregnant women and those with an underlying health condition – will also begin receiving invitations from the NHS to encourage them to get their Covid and flu jabs from this week.
GP practices, Community Pharmacies and other local NHS services will also be contacting people to offer both flu and Covid vaccines, and people can book the flu vaccine by searching online for a local pharmacy.
In England, over 30 million people are eligible to receive a flu vaccine and over 20 million are able to get a Covid jab.
Covid vaccination for those aged under 18 years will begin later in the year – the NHS will let eligible families know when this offer opens.
This year's adult Covid and flu vaccination programme has been brought forward on the advice of scientists following the emergence of a new Covid-19 variant (BA.2.86), which has a high number of mutations.
Health chiefs have ensured there is enough capacity to offer the flu and Covid vaccines to all those eligible by the end of October, reflecting the risk of the new variant.
Alongside this, local NHS staff have worked hard to prepare for the earlier start of the programme, with over 50 fixed sites across the county – more sites than ever before – taking part in the campaign this year, as well as pop-ups in community locations, to make it as easy and convenient as possible for people to get protection.
Service Director with responsibility for Covid Vaccination in NHS Shropshire, Telford and Wrekin, Steve Ellis said: "Vaccines are our best protection against flu and Covid-19, and I strongly encourage all eligible people to come forward for their lifesaving winter vaccines as soon as they can.
"The new Covid variant presents a new risk, but NHS staff locally are rising to the challenge once more to do all they can to protect the public.
"Those eligible can now easily book a Covid vaccine online – it takes just a few minutes and there are more sites than ever before offering the vaccine across the county, so please come forward as soon as you can to give yourself and your loved ones vital protection over the coming months."
The NHS winter flu and Covid vaccination programme provides vital protection to those eligible and their families over winter, keeping people from developing serious illnesses, and helping to minimise hospitalisations during busy winter months.
People eligible during this year's vaccination campaign include all aged 65 and over, care home residents, frontline health and social care staff, those at increased risk because they are pregnant or have a certain underlying health condition, unpaid carers and household contacts of those at risk.
It is important for those who are eligible to top up their protection, even if they have had a vaccine or been ill with flu or COVID-19 before, as immunity fades over time and these viruses change each year.
On 11 September, c
are home residents and people who are housebound began receiving their covid and flu vaccinations with visits from their local NHS team.
Ellesmere House was one of the first care homes to receive vaccination with Julie Hayes, one of the residents commenting "To me I think it's silly if you don't [have the Covid Vaccine], because it's there, it's free, it's painless. There's absolutely nothing to it"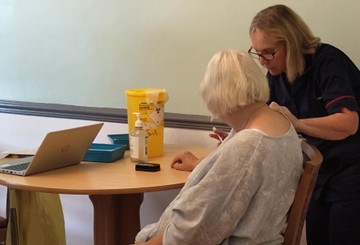 Last year, the NHS carried out its second biggest ever flu vaccination campaign, with more than 21 million flu vaccinations given to adults and children, while more than 17 million Covid jabs were delivered last winter.
Earlier this year, NHS England announced more than 86 million Covid vaccination appointments have been arranged using the NHS's national online booking system since its launch two years ago.
More than 149 million Covid vaccines have been administered by NHS staff and volunteers since the first Covid-19 jab was delivered outside of clinical trials to Maggie Keenan in Coventry in December 2020.
Flu vaccination of children aged two to 17 has begun and the first invitations to parents of children aged two and three are also being sent today. Parents are being urged to fill out the consent forms for the nasal spray vaccine as soon as they can, which is administered at school and in GP surgeries.
Pictured: Care Home resident Julie Hayes receiving her vaccination from Linda Hart, Clinical Team Lead.