World Pharmacist Day is celebrated every year on the 25th September and this year the theme is "Pharmacy united in action for a healthier world". This year's theme aims to showcase Pharmacy's positive impact on health around the world and to further strengthen solidarity among the profession.
Within Shrewsbury and Telford Hospital NHS Trust we have 47 pharmacists. These roles all support and create a healthier world for the patient population within Shropshire, Telford and Wrekin. We have Advanced Specialist Pharmacists that support patients in different ways within Cancer Services, Critical Care, Acute Medicine, Frailty, Paediatrics, Antimicrobials and Cardiology. These highly trained clinical pharmacists provide support to these areas with many being non-medical prescribers who therefore offer an enhanced service and ensure medicines are prescribed appropriately for the patients.
Pharmacists also provide support to patients with long term conditions, and we have a pharmacist who leads on our Homecare Service which enables around 2,000 patients to receive care in their own home.
Here, two of our pharmacists talk to us about their roles: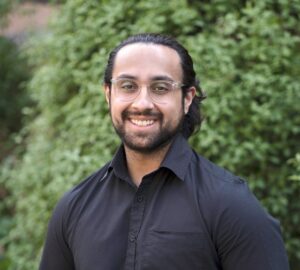 Gurvinder Chadha, Advanced Specialist Pharmacist in Acute Medical Admissions
What does your role involve?
I am currently the lead pharmacist in acute medical admissions based at the Princess Royal Hospital. I find leading this area very rewarding, as often within an organisation it can be the pressure point but also the very solution in allowing patients to receive early pharmaceutical care and maintaining effective patient flow within a hospital. My main duties involve providing a high level of clinical pharmacy input, allowing for optimisation of medication therapy resulting in the best health outcomes for patients.
What led you to work in Pharmacy?
I have always had a keen interest for science related subjects such as chemistry and desired to be in a role which helps people directly; pharmacy was able to provide the perfect blend of these factors. I was also drawn to the flexible career options pharmacy offered, as it can open opportunities in variety of fields including general practices, teaching and the pharmaceutical industry.
What do you love most about your job?
I enjoy being able to work collaboratively with a close-knit multidisciplinary team (MDT) made up of various healthcare professionals including doctors, nurses and allied health professionals. Within this team I provide advice on medicines and treatment pathways, to deliver safe and effective patient care. Equally important I can further develop my own practice from the expertise that is shared amongst this MDT.
Any advice for new Pharmacists?
My advice to new pharmacists would be to always put your patients' safety and wellbeing first, be honest about mistakes and most importantly learn from them. Network with other healthcare professionals as it can support professional development and give insight into new productive ways of working.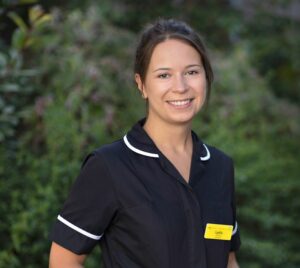 Lydia Holloway, Advanced Specialist Pharmacist for Overprescribing and Discharge Medicines Service
What does your role involve?
My role is a new role within the Trust, which I started in May 2022. I work alongside another team at The Princess Royal Hospital to lead the development of the Discharge Medicines Service (DMS) across the Trust. The DMS involves referring patients to their community pharmacies after they are discharged from hospital, allowing them to be better supported with their medicines after discharge. My role includes facilitating DMS referrals by educating and supporting Medicines Management Technicians and Pharmacists, ensuring referrals are sent promptly and for appropriate patient groups, plus communicating with and gaining feedback from community pharmacies.
We also lead the Clinical Pharmacy standards across the Trust for medication overprescribing, ensuring staff practice is aligned to the national agenda for reduction in overprescribing. We are soon to begin more work on this area as our main focus so far has been on the DMS.
What led you to work in Pharmacy?
My mum, sister and aunty are all pharmacists, so I was naturally led down this route. I did explore other careers, but I just loved the idea of pharmacy! I liked science and maths at school and college, and felt this tied in well pharmacy. I also worked within a community pharmacy as a Saturday girl during college, and I think this experience confirmed that pharmacy was what I wanted to do.
What do you love most about your job?
I love the patient-facing aspect of my job and the positive impact I have on their lives. Many patients are very grateful and appreciate the help you give them, even if it is something simple that you have done and it's a great feeling. I also like that I am supporting patients with their medicines after they are discharged and knowing that they can access help if they need it.
I should also mention that I love the colleagues that I work with and work wouldn't be the same without them. Everyone is always there to support each other and help out when they can.
Any advice for new Pharmacists?
I remember being very conscious of how slow I was as a new pharmacist, however this is normal and it improves with experience so don't put yourself down. Get involved with any opportunities that arise, as this is the best way to learn and gain experience. Never be afraid to ask for help, as everyone is here to support you – we've all been through it ourselves!