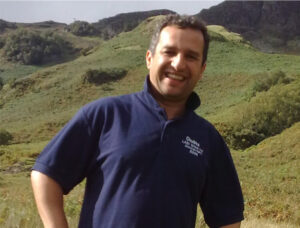 Michael Philippou, who received treatment at the Chemo Day Care Unit, sadly passed away in June. His family and friends wanted to thank the staff, who were absolutely lovely and looked after him so well.
Neville Street and friends organised a sponsored bike ride and raised £1,769. A further £560 in cash donations received by his wife Sonia, brings the total to £2,329.
Michael's friends and family hope that the monies raised will help other p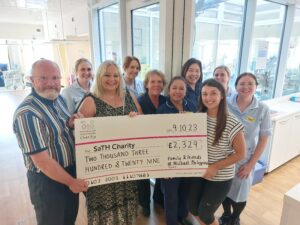 atients going through treatment. They presented the cheque to the Chemo Day Care Unit on Monday 9 October, which would have been Michael's 63rd birthday.
Julia Clarke, Director of Public Participation, said: "We are grateful to Michael's family and friends for raising money for the Chemo Day Care Unit, we know this money will make a difference to patients and is a wonderful legacy in memory of Michael."
Pictured Top – Mikey Philippou
Pictured Bottom – Neville Street, Sonia Philippou and Georgia Page with the Chemotherapy Day Care unit team.