Hospitals Transformation Programme 'About Health' Events
Join one of our 'About Health' event and meet members of the Hospital Transformation team and key clinical leads to find out more on how the plans have been developed, opportunities for you to get involved and what will happen next.
These events will give you the latest update on the Hospitals Transformation Programme (HTP).
HTP will be central to us developing two thriving hospitals that can deliver better care for everyone, including:
Enhanced urgent care services that will be available 24 hours a day, 7 days a week at both sites
A dedicated Emergency Department in Shrewsbury for everyone in Shropshire, Telford, Wrekin and mid Wales, with faster access to medical and surgical specialties
Dedicated facilities in Telford for planned care for everyone in Shropshire, Telford, Wrekin and mid Wales, reducing the number of delays to scheduled appointments and operations and;
Services that are more resilient to future pressures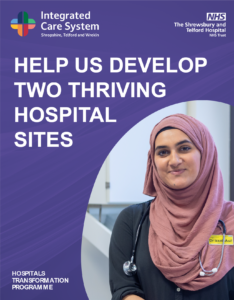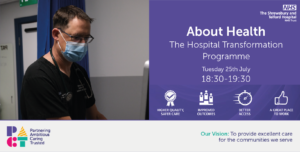 The next event takes place on  7th November 2023 18:30 – 19:30, click below to register for this event.
We also asked for questions to be submitted prior to the event, we try to answer as many questions as possible during the About Health Event, however all questions submitted to us from the public have been responded to. If you have a question please email sath.engagement@nhs.net.
Previous events
We held an about About Health Event on the Hospital Transformation Programme on 25th July, a recording of the event can be viewed below
Questions and Answer from the About Health event
| Question | Response from the Hospital Transformation Programme Team |
| --- | --- |
| 1. Will you be publishing the OBC (Outline Business Case) | Any publication of the OBC will be subject to the approval process and requirements of NHSE, DHSC and HMT. |
| 2. How many IP (in patient) beds on both sites will there be | The Trust will have over 700 inpatient beds across both the Princess Royal Hospital and Royal Shrewsbury Hospital sites. |
| 3. When does the planning consultation close | The standard consultation expiry date is Wednesday 6th September 2023. The Trust understands that the planning authority may, at its discretion, consider comments that are made after the closing date (but have no obligation to do so). We would therefore recommend submitting any comments well in advance of this date. |
We held an about About Health Event on the Hospital Transformation Programme on 9th May, a recording of the event can be viewed below