1 December 2021
Anna's Story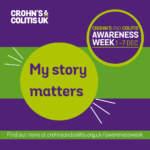 In March 2014, I went to my GP as I had noticed a bit of bleeding when going to the toilet. She quickly referred me to the Colorectal team at SATH who saw me 2 weeks later and confirmed a diagnosis of proctitis and I was given some suppositories to ease the symptoms.
However, by the end of May 2014, just 2 months after the initial spots of blood, I was losing a lot of blood and having urgency to go to the toilet and not always making it (which caused me a great deal of upset and embarrassment), stomach pain and fatigue.
I booked another GP appointment and the GP rang the duty doctor who prescribed me oral steroids. These seemed to work immediately so I was relieved and thought everything would be ok again. As I weaned off the steroids, my symptoms began to return so my GP referred me back to the Colorectal team who this time(July 2014) said that I had Ulcerative Colitis.
I remember feeling very alone and scared as I had never heard of the condition before. I had heard of Crohn's disease but all I knew about that was that it wasn't very nice.
I was sent home with information about my illness and some more suppositories and thankfully I was given the telephone number for the wonderful IBD nurses at the hospital. This is something that ended up being a lifeline for me whenever I had a flare up as I could leave them a voicemail any time of the day or night and they would always call me back the following day.
They arranged colonoscopies, blood tests, arranged emergency appointments with the consultants and generally looked out for me. I became anaemic and had to have iron tablets, folic acid tablets and B22 injections. I soon found myself being admitted for I/V steroids for 3-5 nights (a pattern which repeated itself every time I had a flare). The I/V steroids gave me pains in my chest and I would be shaky and weak each time I left hospital. I also developed moon face which was horrible as people who knew me would stare and wonder why my face was so fat.
During my stays in hospital the staff on ward 25 were fantastic and although they were always busy, they looked after me well and organised food that I could eat as I couldn't tolerate lots of foods because of my UC as the normal hospital menu contained lots of rich, spicy foods with red meats that were no good for me.
Over the years, I did have some well times – 18 months on Infliximab and 2 and a half years on Vedolizumab (I/V drugs given at the treatment centre every 8 weeks). I remember the first time I received a dose of Infliximab it was New Years Eve. The list of possible side effects were huge and I actually wondered if I would make it into the New Year. Thankfully the only reaction I had was tiredness for 48 hours following the infusion.
The staff at the treatment centre were always lovely and welcoming despite the fact that my veins were difficult to canulate! I did also get the chance during infusions to chat to some other people suffering with IBD which was reassuring as we could share stories.
Eventually after trying all the drugs available to me (adalimumab and tofacitinib)  and taking part in a drug trial I had to face the hardest day of my life when after having an emergency camera on Saturday 21st September 2019 I had run out of options and ended up having emergency surgery a few days later to remove my colon and have an ileostomy. I had lost 2 stone in weight and I was physically weak. I have never felt so low and cried for the next few days as this was something I had fought against having to have.
Thankfully the surgery went well (I had a fantastic surgeon) and I had to learn to adapt to life with a stoma. The stoma nurses were lovely and really helpful giving tips on how to cope with my new way of life and gave me tips on which foods to eat and which to avoid to avoid blocking my stoma.
This was not the end though as the night before my surgery I was told that I would need further surgery down the line to either make my stoma permanent or have a pouch. The thought of more surgery terrified me and I cried again.
I received counselling to help me deal with my new body image. I had to change the clothes that I wore as I could no longer wear jeans that zipped up and short jumpers. Again I cried as I took lots of clothes to the charity shop and had to buy leggings and long baggy jumpers and tops to hide my bag. I have also had to get used to my bag – changing it and emptying it and dealing with the few times that it leaks.
Two weeks ago today I have had the final surgery to make my stoma permanent. Again I was lucky to have the same surgeon who had done a fantastic job on my first operation. Due to covid, the surgery was on hold for a while and the operation was postponed twice before it went ahead. Once again my care in hospital was fantastic. Even the receptionist at the treatment centre, HCA's cleaning staff, doctors and nurses have all been amazing and been there to answer any questions that I might have had.
I feel that I can now continue with my life albeit totally differently to life before a stoma but I am finally free from pain and bleeding and I can actually attend social events with family and friends and not have to worry about being doubled over in pain or where the toilets are incase I should suddenly have to dash to them. At my worst this would be every hour of the night and 7-8 times or more during the day. I'm so grateful for the care that I have received and am still receiving.