A bench has installed in memory of Trevor Jasper, a former colleague.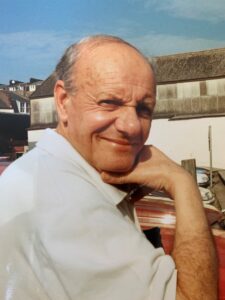 After Trevor Jasper passed away in 2021, his family donated money to SaTH Charity to purchase a wooden bench in his memory. Trevor had been a member of the Estates team at PRH for 17 years. The bench can be found in the Bonningale courtyard /Tranquillity Garden just off the main corridor near to the Estates department.
Trevor's wife, Isabel, and members of his family visited PRH on 30 April to view the bench and take a moment to remember him. Karen, Trevor's daughter, said, "It is great to see the bench in a place where he loved working. People who
knew him remember his great sense of humour; he was a carpenter by trade so a wooden bench in his memory felt the right thing to do – although he would probably still have something to say about how he would have made it 'properly'!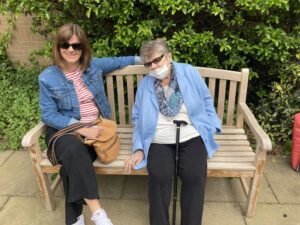 "Dad was cared for in this hospital during the pandemic, when visiting was restricted. Visiting the bench has allowed the family to come to say a goodbye together."
Mike Williams, PRH Estates Site Manager, said: "I didn't get to meet Trevor myself, but my predecessor Dave [Chan] had worked with him when Dave was a young man. He was well-known and well-respected within the team."