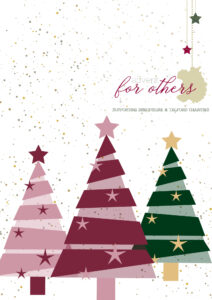 SaTH Charity are delighted to be part of 24 charities featured in 'Advent for Others'.
Together, we've taken the core idea of the advent calendar and put a charitable twist on it. Instead of getting chocolate behind each door there's a local charity that will receive a share of the money raised from the calendar sales. So, by purchasing this advent calendar you will be supporting 24 charities and will find out a bit about one of the charities each day on the lead up to Christmas.
Julia Clarke, Director of Public Participation, said "We were thrilled to be invited to join this collaborative calendar of local charities. In the past year the public have been a great support to SaTH Charity as this is a lovely way of supporting us and lots of other great charities in the area."
One calendar costs £24.99. For this price you will receive one physical Advent for Others calendar that includes information on 24 individual local charities that will each receive an equal share of the calendar profits. Visit https://adventforothers.squarespace.com/store to purchase yours.