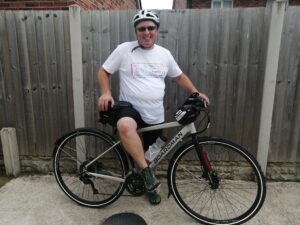 Local man, Andrew Walmsley, has raised over £1200 for the SaTH Charity Breast Cancer Fund by completing a sponsored cycle challenge.
Andrew, a self-confessed amateur cyclist, set himself the challenge of cycling from his home in Whitchurch, to the Princess Royal Hospital then onto the Royal Shrewsbury Hospital and then returning home – a distance of approximately 60 miles, all in aid of Breast Cancer.
Andrew said: "My reason for doing this is my wife, Dian, recently had a lumpectomy and if it wasn't for the early detection and the great expertise of staff, the outcome might have been different. I wanted to show my thanks by giving something back.
My Breast Cancer Shropshire Amateur Cycle Sponsorship Challenge was a win/win, I say that because it gave me a cause to get fitter and lose some weight, the result of which, I supported my Wife and made some money for Shrewsbury and Telford Hospital NHS Trust Charity, that win/win gives you immense pride and satisfaction."
The challenge was completed on 22nd August and £1197 has been raised to date. Julia Clarke, Director of Public Participation, said "What an amazing amount to raise singlehandedly – we are equally impressed with the 60-mile round trip which is not an easy feat, especially as there are quite a few Shropshire hills along the way, which you notice much more on a bike!  The money raised will help us deliver care to future users of the service and support their families and carers while they're receiving treatment."
Details of Andrew's fundraiser can be found here: Andrew Walmsley is fundraising for The Shrewsbury and Telford Hospital NHS Trust Charity (justgiving.com).
Are you thinking of doing a sponsored challenge? SaTH Charity are here to support you, please get in touch with us on sath.charity@nhs.net to find out more.