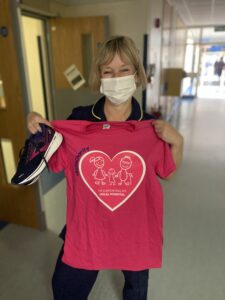 Nicky Brierley, Cardiology Nurse, has won the charity place to run in the London Marathon for SaTH Charity.
We caught up with Nicky to find out a little bit more about her and why she is taking on this huge challenge.
Nicky said: "I'm 53, married with two grown-up sons and I have worked in the Coronary Care Unit (CCU) at the PRH since 1989. In 2020 I took on a new role within the Trust as a Cardiac Assessment Specialist Nurse and I am enjoying the challenge of all the training and development this new role involves.
"I have been running since 2006, inspired by a SaTH colleague running the London Marathon. I signed up to run the Race for Life 5k and haven't stopped running since.
"I am a member of Lawley Running Club and also a Run Leader for them, leading our groups of runners. I also regularly run Couch to 5k groups as I love supporting others to take up a sport which I enjoy.
"I have run 13 marathons to date and, although all marathons are 26.2 miles long and running one is an amazing achievement, London holds a special place in the hearts of runners. I am running to raise money for the Cardiology Fund and the chance to represent SaTH while doing something I love is a real honour."
Nicky already runs, on average, four times a week and will follow a 16 week training plan to gradually increase her long runs up to 20 miles – as well as adding strength, core and stretching into her training.
Julia Clarke, Director of Public Participation, said: "I want to thank Nicky for taking on the immense challenge. Marathons are not for the faint-hearted, but Nicky has already got loads of experience. We're really proud she has chosen to raise money for the cardiology fund within SaTH charity. Any money raised will help them to enhance the incredible work they are already doing – we all wish her the best of luck."
You can sponsor Nicky by clicking here and there are plans to hold a quiz night and a raffle. If you would like to know more about Nicky's fundraising plans, please email nicola.brierley1@nhs.net.