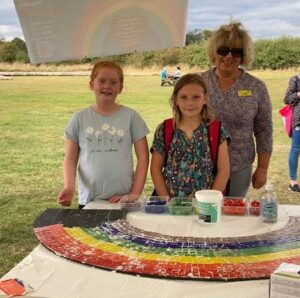 Girlguiding Shropshire have created 2 beautiful mosaic Rainbows to be displayed at The Princess Royal Hospital and The Royal Shrewsbury Hospital. The girl guides held two activities days in Attingham Parks 'Field of Play' where everyone was invited to add their own part to the mosaic.
Rebecca Harding, Shropshire Girlguiding Leader, said: "The Girlguiding Shropshire 'Together at Attingham' event was our first Girlguiding Shropshire activity weekend following COVID pandemic restrictions being eased.
To celebrate us all coming back together but also to mark the pandemic and thank our local hospitals we thought about creating rainbows like many of us had pictures of during lockdown signifying hope and making people smile.
We hope the rainbows make staff and patients at Royal Shrewsbury Hospital and Princess Royal Hospital Telford smile! It was great fun all coming together and Rainbows, Brownies, Guides, Rangers, Leaders, members of Trefoil Guild and the public adding mosaic squares."
Julia Clarke, Director of Public Participation and Aaron Hyslop, a member of the SaTH Charity Team, went along to join in the fun. Aaron, who went along with his 2 year old son said "I did stop by on Saturday afternoon and said hello. I spoke to a number of other troop leaders and they had quite a few girls coming through adding pieces, in fact my son even added 3 or 4 himself. It was all very lovely, the girls were excited to be participating."
Julia said "The field of play was a lovely setting and it was a beautiful day to be involved in the activity. We are looking forward to October half term when the girl guides will be visiting SaTH to donate the finished rainbows."