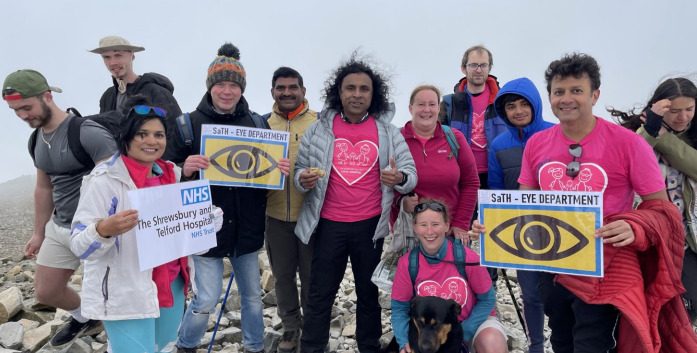 Our Medical Retina Team has conquered Scafell Pike – their second expedition as part of the Three Peaks Challenge to raise funds.
A group of 27, which also included 14 GPs, scaled Scafell Pike, which is a massive 978 metres above sea level, in the Lake District last Saturday (30 April). Consultant Ophthalmologist Devaki Nayak, who led the team along with senior Ophthalmology colleagues Prasad Rao and Lakshika Perera, said: "The challenging weather and the Rocky Mountain did not stop us from achieving our goal.
We have collected £4,394 towards the fundraising event. Thanks to Andrew and Jenny for joining the trek and pumping up the team spirit."
Their first trek was to Snowdon, Wales, and they are hoping to tackle the third and final peak – Ben Nevis – in July.
The fundraisers are keen on obtaining additional equipment to improve detection of sight threatening conditions, provide early treatment to prevent blindness and improve the prognosis for vision in every patient.
If anybody would like to sponsor them, please click here.