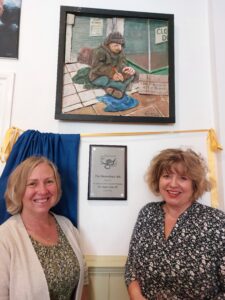 NHS Charities Together asked the NHS Charities of Shropshire and Telford and Wrekin to identify local charities who could support patients in the community.
This resulted in NHS CT awarding a grant of £227,000 to support nine local charities. SaTH Charity led on the management and distribution of the grant. One local charity whose bid was successful was the Shrewsbury Ark which provides support for the homeless and vulnerable.
Successful bids have resulted in grants also being given to STAY Telford, Telford MIND, Connect for Life, Shropshire Rural Communities Charity, Energise Shropshire Telford & Wrekin, Telford and Wrekin Council for Voluntary Service (CVS), Donnington Community Hub, and Sutton Hill Community Trust.
The grant received by the Shrewsbury Ark was to fund a health liaison & support worker to reduce health inequalities in the homeless population particularly the vulnerable and hard to reach, helping to reduce the incidence of premature death or frequent A&E attendances by encouraging and supporting vulnerable people to access health services through a GP visiting the Ark and supporting them to keep their follow up appointments.
Julia Clarke (Director of Public Participation) and Clare Cannock (NHS CT) were among supporters invited to the opening of the Shrewsbury Ark's new premises to see first-hand the positive impact the grant is having particularly around supporting individuals to attend external hospital appointments and on-site clinics for GP appointments, Hepatitis C
and Hepatology Clinics.
Julia Clarke said: "It has been a privilege to be part of this project. Shrewsbury Ark are very special in the local community and their work is so important. This new centre offers even more help to some of the most vulnerable people in our society and give support that is far better delivered in a community setting than a hospital admission."