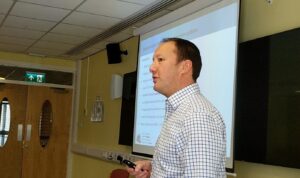 The Shrewsbury and Telford Hospital NHS Trust (SaTH) is relaunching its award-winning People's Academy as an online course in November 2021.
The People's Academy has been successful in helping local people understand more about the NHS and their local hospitals and will be delivered in a series of four two-hour sessions over four weeks using Microsoft Teams:
The NHS
Our Hospitals
Our Population
Opportunities to #GetInvolved
Julia Clarke, Director of Public Participation at SaTH, said: "It is more important than ever that the public are able to become involved with their local NHS hospitals and I am delighted that we are relaunching our People's Academy in this new format."
The course provides opportunities to meet staff from across the Trust, who come to talk about everything from Service Improvement to Dementia Care. Everyone completing four weeks of the course will be sent a certificate of attendance and a pin badge, and people who have missed sessions in previous courses can join in to complete their People's Academy experience.
Kate Ballinger, Community Engagement Facilitator said: "Sharing information about our hospitals through The People's Academy courses is one of the best parts of my job.  We have refreshed the content to reflect our current situation and made sure that each week includes a variety of presentations, videos and activities for people to enjoy. I can't wait to get started!"
Dates for 2022 will be released before Christmas, and will include our Young People's Academy which is available to anyone over the age of 14. The academy breaks down the inner workings of the NHS into easily digestible sessions and can support CVs, university/college applications, and other routes into education or employment.
Register for The People's Academy via Eventbrite here: https://sathnhs.eventbrite.co.uk/ or for more information or to let us know of any access requirements, please email sath.engagement@nhs.net or call 01743 492390.