16 February 2023
A new acute medical floor has been opened at Royal Shrewsbury Hospital to ease pressure on its Emergency Department and improve flow through the hospital.
Since it opened its doors in December more than 1,100 patients have attended the acute medical floor at the hospital.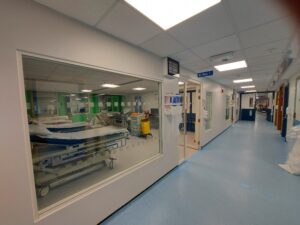 It now means that patients who would have been seen and managed in the Emergency Department (ED) of the hospital have been admitted directly or moved from ED to the acute medical floor.
The acute floor means that the hospital can now accept direct admissions from GPs as well as patients from ED.
Of the 1,163 patients seen at the acute floor, more than 700 spent no time in ED during their admission to hospital.
Dr Aruna Maharaj, Clinical Director for Acute Medicine, who has been leading on the work said: "The creation of the acute medical floor means some of our most unwell patients will no longer have to attend our EDs and this will in turn ease pressure on our ED teams and help flow through our hospitals.
"It also shows that patients are going home sooner, will have a better patient experience and there will be more timely discharges from hospital."
A number of wards were moved around to create the dedicated acute care floor, which not only provides a new medical assessment area, but also wider ambulatory care capacity. Patients are able to receive a diagnosis, observation, consultation and treatment on the acute medical floor, reducing the need for a hospital admission.
Sara Biffen, Acting Chief Operating Officer , said: "The creation of the floor is a credit to all my colleagues who were involved in its design and how it operates. It already shows it is making a huge difference to the experience of our patients."
Hayley Flavell, Director of Nursing, said: "It is important we get patients to the right place the first time, where they are assessed by the right people at the right time to get to the right place. That should really streamline their care."