4 April 2023
Ashia Miah, Hospital Chaplain, talks to us about her role at the Trust and what Ramadan means to her.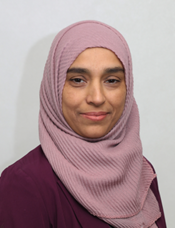 Tell us a bit about you?
I was born in Bangladesh but came to Birmingham when I was four years old and moved to Telford in 1996. In 2001, I graduated with a degree in BSc Hons in Medicinal Biochemistry at Wolverhampton University. I have always loved helping others, especially when they are in distress and challenging situations. I'm involved in various community projects to meet the religious, spiritual, mental and physical needs, so outside of my role as chaplain I keep really busy with those. I created the Shropshire and Telford United Women's Association in 2006, I am a member of the NHS Shropshire, Telford and Wrekin Equality and Involvement Committee and I'm also a group facilitator for Victim Support. To help me juggle all these demands, I have a fantastic team at home to keep me going. I am a mother to four lovely daughters and a wife to a supportive husband.
Tell us about your role as a chaplain
The role of a chaplain is a very special one. A patient's physical needs are met by our clinical colleagues, and I like to think that we help to meet their spiritual and religious needs. Often a chaplain can be viewed as someone that only supports patients, but we do so much more than that. We also support hospital visitors, volunteers and staff. The wellbeing of our colleagues is paramount and it's something I'm very passionate about. I am a Muslim chaplain, but my role is to support everyone regardless of their beliefs. I love being a chaplain – I truly feel like God has chosen me to do this.
What role does your faith play in your life?
My faith is so important to me and it is not just a religion, it's a way of life. As a Muslim I want to keep growing closer to God (known as Taqwa) and this is achieved by doing good deeds. My faith determines my actions, but it isn't limited to my encounters with people. It extends to how I treat all creatures, my community and the environment too, so I try to keep this at the forefront of my mind as I go about my day-to-day life.
How would you explain Ramadan?
Ramadan is the nineth month of the Islamic calendar and most people know it to be about fasting. Fasting is a commandment in the Quran (2:183); it is one of the five pillars in Islam, and so Ramadan is very important for Muslims. However, it's much broader than just abstaining from food and drink. Ramadan is a time of reflection, so we look at our character, sharpen our focus on what is good, and try to become as pious as possible. There are so many benefits of fasting, but ultimately, it's about self-improvement and spending more time with God.
What does your daily routine look like during Ramadan?
Every year I want to make this Ramadan better than the last! During Ramadan I will pray more, read the Quran more and give more to local and international causes. My daily routine changes slightly when I am fasting, as I endeavour to make the most of my non-fasting hours by making time for worship during the night. For someone who values their sleep, this can be quite challenging, but somehow I pull through and I don't have the urge for a cheeky nap!
How do you stay motivated and consistent throughout Ramadan?
I stay motivated by looking forward to the next task – whether that be a prayer, reading or worship. I like to set clear goals for myself and for me it's always about quality over quantity. For me I prefer to do small things well, rather than overwhelm myself with doing too much. As a Muslim community we are very good at supporting each other and my family group chat certainly helps with that! Over the years I have been able to train my body for fasting, so all of that experience helps to keep me on track.
What can other people do to help Muslims during Ramadan?
Be aware that our moods might be different during Ramadan, so please be patient and compassionate with us. It is great when managers are mindful of our workload/hours and offer us more flexibility during this time. Please don't be afraid to ask someone how you can support them – the needs will be different from person to person.
Is there a particular Ramadan that stands out for you?
Ramadan 2020 will always hold a special place in my heart because I spent it with my mum before she passed. I always want every Ramadan to be more fruitful than the last, and this year is no exception.