23 July 2019
Comedian Simon Brodkin, best known for his famous character Lee Nelson, surprised youngsters at the Princess Royal Hospital in Telford when he dropped in for a visit on Sunday.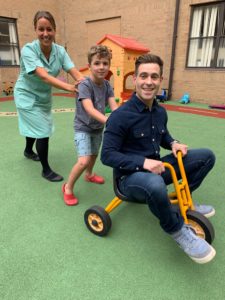 Simon made the visit on his way to compere the Shrewsbury International Comedy Festival, cheering up patients and their loved ones and bringing fun and laughter to the ward.
Glenn Evans and Emma O'Callaghan were on the ward with their children Louie and Indie when Simon arrived. Emma said:
"It was a big surprise. Simon came and told us about himself and asked us why we were here. It was very nice.
"It says a lot about him that he is down here using him time off to visit the hospital."
Simon, who trained as a doctor before becoming a comedian, joked: "They asked me to come along and say hello to a few of the families, so I thought I'd come in say hello, bring a few smiles to the ward and sign a few babies.
"I did a year as a junior doctor and I always had a huge respect for paediatrics – it's hard enough looking after kids when they're not ill!.
"I'd like to thank the hospital for asking me along, it was very nice to do."