24 May 2022
The Shrewsbury and Telford Hospital NHS Trust (SaTH) is developing a career pathway for staff to realise their dream of becoming Registered Nurses.
Healthcare Assistants (HCAs) at SaTH now have the opportunity to progress from HCA to Nursing Associate before doing the 'Top-up' Registered Nurse Degree Apprenticeship programme and qualifying to become a Registered Nurse.
The first cohort of nine joined the 'Top-up' programme at the University of Wolverhampton last December and a further 10 Nursing Associates have been recruited to start this July.
HCAs can initially undertake a two-year Trainee Nursing Associate (TNA) Programme to become a Nursing Associate. The Trust, which runs Royal Shrewsbury Hospital and Princess Royal Hospital in Telford, has been running the TNA programme since 2017 with its 10th cohort starting in March.
There are now 55 trainees on the programme. Over the last five years 50 HCAs have successful completed the programme.
Nursing Associates play a critical and valuable role in working together with nurses and integrated care teams to deliver safe quality care. They are instrumental in the care given to patients, and supporting and supervising more junior care staff in their roles.
For Nursing Associates that wish to progress to become a Registered Nurse there is then the opportunity to undertake the 18-month 'Top-up' Registered Nurse Degree Apprenticeship.
Hayley Flavell, Director of Nursing at SaTH, said: "The 'Top-up' Registered Nurse Degree Apprenticeship is such a great opportunity for our Nursing Associates to follow a career pathway.
"We see such enthusiasm from HCAs who are keen to develop and progress. We are so pleased that we can offer them the chance to become Registered Nurses by succeeding with the degree apprenticeship."
If you are interested in a career as a HCA an academy for Health Care Support Workers has been set up by Shropshire, Telford & Wrekin Integrated Care System (ICS) which is made up of SaTH and other health and care partners within the system. Information is available at www.stw-healthcare.co.uk.
Anita Chant-Clift, a Nursing Associate, is part of the first cohort on the degree apprenticeship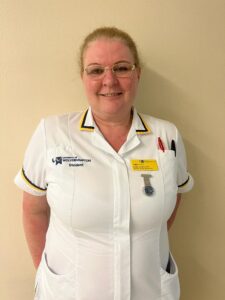 "When I was at school I did work experience in a nursing home and then I started working there voluntarily. This is something I have wanted to do my whole life – I had the nurses' play kit when I was younger and this is what I wanted to be.
"In 1997, I lost my dad to cancer and he was in intensive care at Heartlands in Birmingham. I stayed with him while he died – it took me a good while to get over it but then I thought if I can sit with my own dad when he is dying then I can sit with somebody else's."
In 2000/2001 Anita decided she wanted to do the Access to Health and Nursing course and she was encouraged by another student, who is now a ward sister, to apply to be a HCA at SaTH. She started work as a HCA in August 2002.
Anita said: "I absolutely love it. You can't even put it into words when you see somebody who was so poorly get up and walk out of the hospital well. The other side of the coin is that there is a patient who you know isn't going to make it and you sit with them until they have gone. You can say – I did it with compassion, I did it with care and I did it with respect.
"I would say it is not a job or career, it is what I love. It is about making somebody's day better and working in a team that has compassion and love what they do – it's good to be with like-minded people."
Anita stayed as a HCA but she was redeployed to phlebotomy for a while when she was diagnosed with spondylosis. She later moved to ward 10 (Frail and complex) once she managed to get relief from the symptoms.
She later qualified as a Nursing Associate after taking part in the TNA course, but still felt she was restricted on what she could help patients with, so decided to apply for the 'Top-up programme'.
The 'Top-up programme' is now a mix of university, working on the ward, study time and placement.
Anita said: "It is extremely hard to train as a TNA when you are still a HCA and counted as part of the ward numbers. As student apprentices we are treated as student nurses so I have to be supervised on a drug round by a registered nurse."
All apprentices on the programme have a base ward which they return to after placement. Anita's is ITU.
"They are so good with students, so organised. You get a real warm welcome, The learning is amazing and they are so happy to teach. You learn such a lot – it is just fantastic. You learn so much on ITU that you can take away with you.
"Yes, we have bad days and we have days when you think 'why am I still here?', but overall it's not going to work for me every day and I have felt like that for 20 years.
"There are nurses who I admire and respect and that is the kind of nurse I want to be."
Nursing Associate Cheryl Walker is about to start the 'Top-up' RN Programme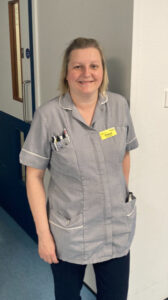 Cheryl's background was in residential care as her family used to run a home. Her dad who was a porter at the Trust encouraged her to join as a HCA.
"My nan was a nursing sister and my mum is a nurse at the hospice so it is very much in my blood. I always wanted to be a nurse but then I spent time being a mum," Cheryl said.
She started as a HCA on trauma orthopaedics, where she still is, but she has also worked bank shifts elsewhere at the Trust.
Cheryl went to Radbrook College 10 years ago to obtain qualifications in Maths and English.
She said: "When you want to do something you will do whatever you can. I wasn't academic at school, but if it something you want to do and somebody gives you the opportunity, then you must do it. I wouldn't be in the position I am now if I hadn't done Maths and English."
Cheryl spent 16 years as a HCA and then the TNA opportunity came about.
"I felt that nursing was such a passion of mine and I am so thankful that the TNS programme came about. I feel this is my time of life now and I really want to climb the ladder with nursing. I feel that I have been a Nursing Associate for two years – there have been challenges as it was a new thing – but it is a great opportunity.
"I have a lot of support on my ward and we all work together to make sure that our patients get the care that they need. With the TNA training it was challenging because I hadn't had an interview since I joined the Trust – it was nerve-racking. There have been a lot of people to support me. You do get through it and you can't believe at the end that you have achieved it."
She added: "I got my place and it was as though I had won the lottery. I will be two and half years qualified when I start the course and I do feel that it is important for somebody to have nursing associate experience before they do their 'top-up'.
"I think it good to have that experience as a nursing associate. I feel that I am now a confident nursing associate and it is quite important."
Cheryl added: "If I didn't have this 'top-up' I couldn't go any further. I appreciate the Trust is paying for my qualification and wages plus giving me the opportunity to climb the career ladder. I'm excited to start my next chapter."