27 December 2019
More than 100 bikers dressed in festive outfits have visited the Royal Shrewsbury Hospital (RSH) to drop off a van brimming with donated gifts for young patients.
The group from the Midlands Riders arrived at RSH, which along with the Princess Royal Hospital (PRH) in Telford forms The Shrewsbury and Telford Hospital NHS Trust, to drop off gifts for the Christmas toy run and are now hoping to make the event, which started up in 2015, an annual tradition.
Organiser Kenny Egan said: "Last year we supported PRH in Telford, but we like to diversify and so this year we decided to highlight the fact that there is a children's assessment unit here and children's outpatients.
"The presents will be donated throughout the Trust, and some people enroute have been kind enough to donate cash as we were passing.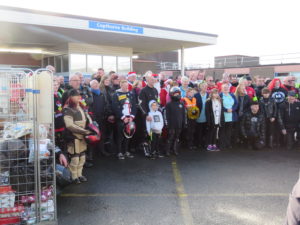 "Every rider here today has made a contribution of one or two toys."
Each gift was marked up with the gender and age it was most appropriate for, and the hospital staff praised the group for thinking of everything.
Dawn Walder, from the Children's Play team, said: "It's amazing, they bring so many gifts for the children. It means we can try and make sure every child has a gift to go home with for Christmas."