31 December 2021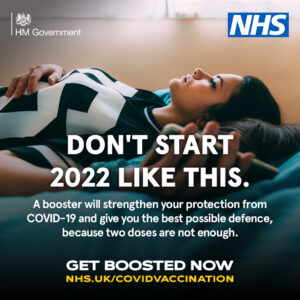 As we welcome in the New Year, the vaccine programme in Shropshire, Telford & Wrekin is counting on the support of local people to help protect frontline services by taking up the vaccine offer as soon as they can.
Health and care staff working in hospitals and in the community are at an increasing risk of catching COVID every day and this could have a devastating knock-on effect on services.
Anyone still waiting to have their vaccination is being urged to book a jab this January to help slow the spread of the virus to protect frontline staff from illness and having to isolate.
Steve Ellis, from the Covid-19 vaccination programme, said: "New Year resolutions are normally about making positive changes and getting vaccinated is something everyone can do to make a positive difference to all our lives.
"It isn't just about protecting ourselves, it's about protecting others. And 'others' means the people we love and those who are vulnerable to severe illness, but also the staff who keep our health and care services running every single day.
"This time of year is usually very busy anyway for our services and our staff are already working incredibly hard but when people are unwell, and have to isolate, the pressure keeps on building.
"Across all our organisations in Shropshire, Telford and Wrekin we have an increasing amount of staff having to self-isolate and that cannot continue indefinitely without some services having to be reduced, or even suspended, as a result."
A full list of sites, including opening times, can be found on the Shropshire, Telford and Wrekin Integrated Care System's website.
Steve added: "We also know that whilst the Omicron strain may be mild for some, we are seeing rising numbers of people being admitted to hospital who haven't been vaccinated or had their booster.
"Getting a vaccine and boosting our ability to get through this together couldn't be easier. There are plenty of places across the county where people can grab a jab."
"So this year alongside your New Year's pledge to join a gym, please go and get a jab."