10 January 2022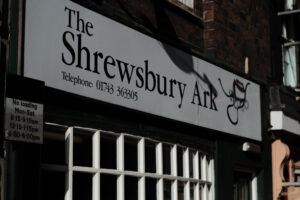 Since December, more than 24 people experiencing homelessness in Shrewsbury have received extra protection against COVID-19 after attending an outreach clinic provided by Riverside Medical Practice at the Shrewsbury Ark, a charity that provides ongoing support and day centre facilities for the homeless and vulnerable in our community.
Six homeless people attended a vaccination clinic on Friday, 7 January at Shrewsbury Ark taking up the offer of either first, second or booster vaccines – with some also getting their flu jabs at the same time.
The session was the first booster clinic in Shropshire to be held specifically for the homeless, although successful first and second clinics were held earlier in the year. Since March 2021, over 121 homeless people have received their vaccination via Riverside Medical Practice's outreach services in Shropshire.
Dr Nicola Roberts, GP at Riverside Medical Practice – who was there administering the potentially life-saving doses, said: "This is my fourth vaccine clinic at the Ark. I've been coming every three weeks and done quite a few first vaccines for the people here.
"For people who are homeless, particularly those who have been rough sleeping, they are frailer more quickly. So, if you're looking at an 80-year-old person who's always been in a nice warm house compared to a 50-year-old person who's been on the street, they're kind of the same in terms of their physiology. So it's important that they have an opportunity to get their vaccine."
Jade took up the offer for her second vaccination: "I think it's a really good idea to have this at the Ark and provides a really great opportunity for us who are homeless or vulnerable to get the vaccine so that we can all be safe. I'll be coming back for my booster.
"If you haven't had it yet – go for it, just do it. The side effects aren't as bad as everybody makes out and it's better to safe than sorry. The quicker we can get through this pandemic the better."
Tracey is a new visitor to the Ark but had her second vaccination from Dr Roberts: "I came here today to get some help for some other things. I heard the Doctor talking about the vaccine and I thought this was a great opportunity to get mine."
Tracy added: "I'm just very, very grateful that there's a place like this that you can help you in lots of ways and helps to keep you safe. Lots of people in this situation don't have a local doctor so to be able to get your vaccine as places like this, I think it's absolutely fantastic."
Cherry Teearu, Outreach Worker at Shrewsbury Ark, said: "A lot of our clients don't have access to the internet to be able to book their appointments or find walk-in clinics or don't have a phone to be able to call for one. Keeping appointments is also really hard for them too – if you don't have a phone or a watch how can you tell the time or remind you of the booking.
"Having a walk-in clinic at the Ark makes it so much easier. Like today, they can come and get their breakfast and get their jab at the same time. Plus, they know Dr Nicola as she's here once a week for the regular clinic and they trust her, so they feel more comfortable getting it from here.
"It means that we, as staff, feel safer working with our clients and they can feel safer too being here. It means we can see and support more people and do more things with them because there's some level of protection."
If you have not yet had a vaccine or know someone who needs theirs, it's not too late – whether it's a first, second dose or a booster then please don't delay. Arrange yours now book online, call NHS 119 or head to a walk-in clinic to protect yourself and your loved ones, and to help stop the spread of COVID-19.
Please remember you do not need to be registered with a GP, have proof of address, immigration status, ID or an NHS number to get vaccinated.
You can find out more about the Shropshire, Telford and Wrekin vaccination programme here: Covid-19 Vaccination Programme (stwics.org.uk)