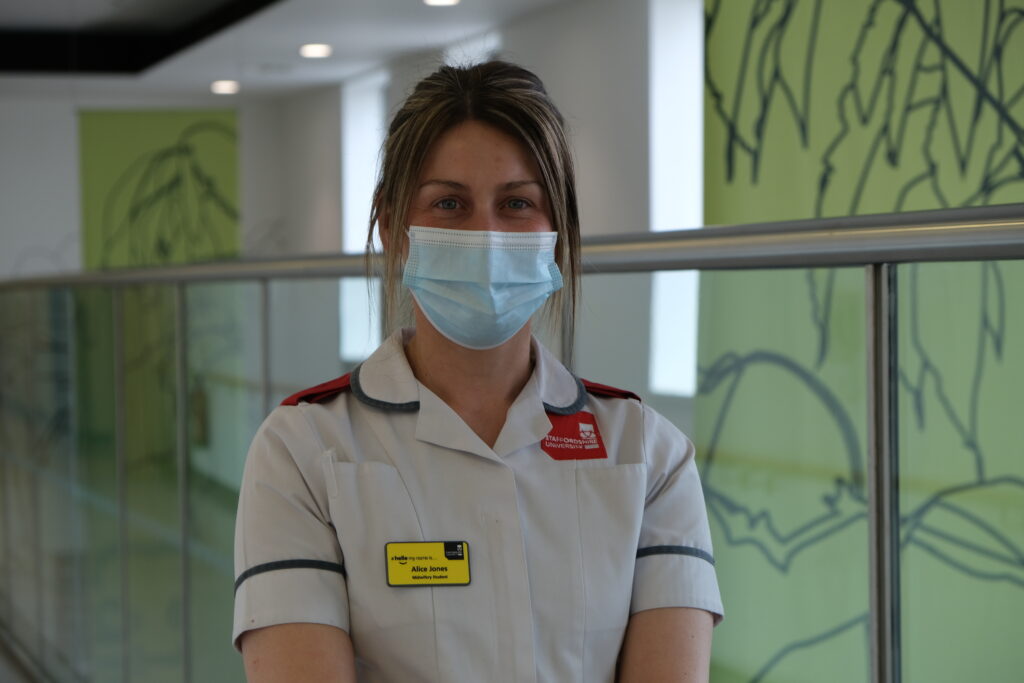 This International Midwives Day (5 May), we spoke with Alice Jones, a Student Midwife working in Maternity Services at The Shrewsbury and Telford Hospital Trust. Alice shared why she wants to become a midwife, her favourite parts about her role and much more.
Why did you decide to pursue midwifery?
"I always wanted to be a midwife, I think I first wanted to be a midwife when I was at school. I left school at 16, however I didn't want to go back into education straight away.
"When I had my little girl six years ago, as soon as she was born I thought this is something I want to do, although it wasn't until I was pregnant with my second little girl that I thought this is the time I'm going to do something about it.
"Whilst I was on maternity leave from my retail job, I went back to college, was accepted into university and I have continued on ever since."
What is your experience of being a student midwife at SaTH?
"When I started out at SaTH, it was always a case of I will do my training here and then go back to be closer to home as I live an hour away. However, I have just loved being here and ended up deciding to apply for a job and have been accepted.
"I think everyone at SaTH is really caring from a student perspective, as the midwives want to see you do well, make progress and achievements.
"Everyone is very supportive and caring and make sure to push you in the right direction to make sure you achieve your goals."
What has been the highlight of your role so far?
"The highlight of my role so far is having got this far, it feels like such an achievement and getting over this last hurdle of exams is my last goal.
"I feel really proud to be able to say I've done this and struggled through while having two children and being able to reap the rewards on the other side.
"My youngest is three and she's showing an interest in what I'm doing, when I come home she asks me if I've looked after any babies today. It's really nice and feels great to know I've got a rewarding role.
"My favourite part of midwifery is being able to follow the family's journey, meeting the women for the first time, her telling me she is pregnant, following her week by week until she has her baby and then seeing them come back as this new little family.
"I love following them throughout their journey, becoming parents for the first time and getting to see them from start to finish is very rewarding."
What message would you share with anyone who is considering pursuing midwifery as a career?
"If there is anyone who is considering becoming a midwife and it is something you truly want to do, regardless of everything, just make the leap and do it."