18 June 2019
A tired-looking staff room at the Royal Shrewsbury Hospital has been given a makeover thanks to the vision and determination of staff, and the generosity of both a patient and the Shropshire Welfare Fund.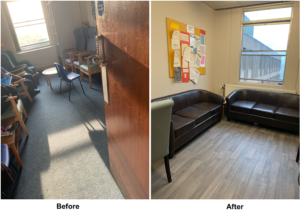 Lacey Jones, a staff nurse on Ward 28 Nephrology at the Royal Shrewsbury Hospital, which along with the Princess Royal Hospital in Telford forms part of the Shrewsbury and Telford Hospital NHS Trust (SaTH), was sitting in the ward staff room one morning when she decided something needed to be done to improve the run-down environment.
Lacey said: "I thought, wouldn't it be nice if the staff room was somewhere people wanted to spend time during their breaks to relax and recuperate before returning to a busy shift, allowing them to be more focused on their patients.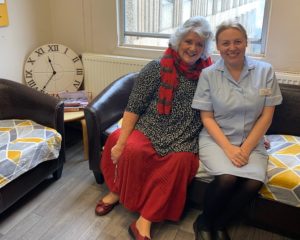 "I put out a request for help on Facebook and the Shropshire Welfare Trust got in touch with a donation of over £900 which meant we could buy some new sofas and refurbish the room. We also received a generous contribution from a patient who we nursed until the end of his life who told us he had donated to say thank you for all our hard work.
"Through lots of hard work and determination from the Nephrology team, who also raised over £300 of their money and came in to work on their days off, we now have a brilliant space for our staff to rest in with new flooring, comfortable sofas, music, tea and coffee-making facilities and some really personal touches, including a staff photo board and a birthday chart.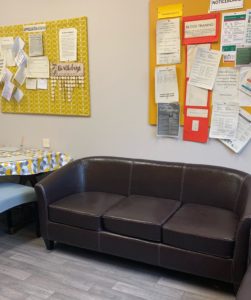 "These changes mean we can spend our precious breaks in comfortable and relaxing surroundings. We feel that the makeover will also help to recruit new staff members as people want to work in a nice environment."
Judith Williams, from The Shropshire Welfare Trust, said: "The Shropshire Welfare Trust is always delighted to support our wonderful health service and particularly the staff who give so much with a smile on their faces. Hopefully the room and sofas will bring them happiness and a well-deserved rest."