17 February 2023
Certificates to recognise "a special contribution to service user care" have been awarded to staff across maternity services.
Created by the Maternity Voices Partnership (MVP) Shropshire and Telford & Wrekin, special contribution certificates have been given to a wide range of staff, including midwives, consultants, housekeepers, women's services assistants, health visitors and mental health services.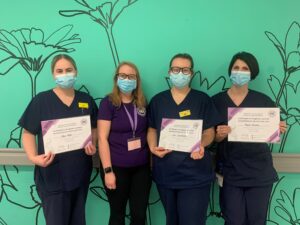 More than 150 nominations were received for 101 people and everyone who has been awarded a certificate was nominated by at least one member of the public who has used maternity services at SaTH in the last year.
Annemarie Lawrence, Director of Midwifery, said: "I am thrilled with this recognition for individuals and teams across our maternity services. What makes these certificates extra special is that every single nomination has come from someone who has been cared for by us, which tells us that we are listening and supporting people to have the birthing experience that is right for them.
"I am so proud of the team for their commitment in helping women and their families to have a good experience at SaTH."
Emily Evans, Maternity Voices Partnership (MVP) Shropshire and Telford & Wrekin Service User Chair, said: "A lot of the feedback we receive about staff working in SaTH's maternity services is positive and we feel that they should be celebrated for the amazing work that they are doing.
"Kindness and compassion have come across clearly and frequently in the nominations staff have received. Each person who has been named has made someone feel very special at an important time in their life.
"As a working group, the MVP reviews and contributes to the development of local maternity care, so as well as identifying areas for improvement it's important to highlight the positive stories we receive to help this good work to continue."
ENDS