30 April 2021
The Trust that runs maternity services for women in Shropshire, Telford & Wrekin and mid Wales is inviting people to explore its Midwife-Led Unit (MLU) from the comfort of their own homes via a new virtual tour.
For those who have booked, or are hoping to book to have their baby under midwife-led care at the Princess Royal Hospital in Telford, the 360° interactive tour showcases the facilities offered at the unit, which opened in April 2020.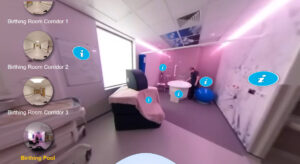 Created with input from the Shropshire and Telford & Wrekin Maternity Voices Partnership (MVP), maternity service-users and midwifery professionals, the tour of the MLU provides a completely interactive look at the unit. Information points can be expanded to provide more detail about facilities within the unit's birthing rooms, including birthing pools and modular sofas. General information is provided on every aspect of a service-user experience, from how to get to the midwife led unit to café opening times.
To view the 360° virtual tour of the MLU, visit www.sath.nhs.uk/wards-services/az-services/maternity/360tour. Further tours for the Trust's Delivery Suite, Postnatal and Antenatal areas (including triage) are in development and will launch in the coming weeks.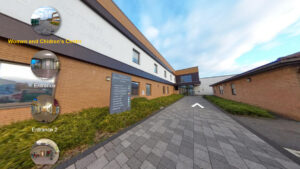 Hayley Flavell, Director of Nursing at The Shrewsbury and Telford Hospital NHS Trust, which runs the service, said: "Every experience of having a baby is unique and preparing for giving birth can sometimes be daunting for women and birthing partners. We hope this virtual tour will help mums-to-be and their families to feel supported, prepared and empowered."
Emily Evans, Service User Chair for the MVP, said: "I'm really proud of the work the MVP and SaTH have carried out together on the virtual tour. It's great for people to be able to look round the unit and familiarise themselves with it during their pregnancy from the comfort of their own homes. The MVP is confident the tour will help people feel more reassured and relaxed about what to expect and what facilities are available at the great new unit."
Elinor Hughes, a service user from Gobowen who is expecting a daughter in October, said "The new virtual tour is a really useful tool for me and my husband to explore the MLU, particularly at a time when we are trying to stay at home as much possible. I feel more prepared knowing what the room I hope to give birth in looks like and more comfortable during a time that can be full of uncertainty."