14 October 2019
Together with Santander, the Shropshire Prostate Cancer Support Group (SPCSG) has funded a new ultrasound bladder scanner, doubling the number of patients who can be screened at the Royal Shrewsbury Hospital.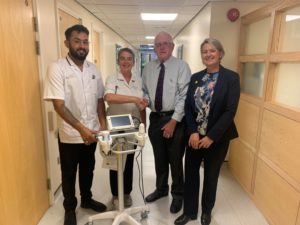 The new bladder scanning equipment allows staff looking after those going through treatment to safely and effectively measure bladder consistency without invasive testing.
Dennis Briggs, chairman of the group, said: "It's making life easier for the men who are suffering."
"We raise money all year around to support men with prostate cancer. We donate equipment to local hospitals, carry out PSA testing and raise general knowledge for people. Generally we're trying to raise the profile of prostate cancer."
Having also previously purchased a scanner for the Princess Royal Hospital (PRH) in Telford, the group will now begin its fundraising efforts to purchase another piece of equipment for the Shrewsbury and Telford Hospital Trust, which runs PRH and the Royal Shrewsbury Hospital.
"The nurses said they could do with another bladder scanner, because of all the men who are coming forward now," Dennis said. "We'll raise the money and then ask them what they want."