13 May 2022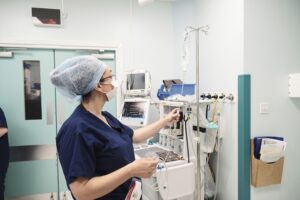 We will be celebrating the roles of Operating Department Practitioners (ODP) during ODP Day on Saturday (14 May).
Patients will very often not be aware that it is an ODP who will provide skilled care for them from the moment they arrive in the operating theatre department to when they are discharged from the recovery room.
This year's theme is "Inspiring the next generation" so The Shrewsbury and Telford Hospital NHS Trust (SaTH) aims to spread the word far and wide about ODP roles and encourage others to consider it as a career.
At SaTH, there are more than 40 ODPs who have a wide and diverse range of skills across the three main areas of theatre – anaesthetics (helping the anaesthetist), scrub (assisting the surgeon, getting everything ready for the operation and passing the instruments) and recovery (helping the patient to wake up and ensuring there are no complications.)
They aim to build up a rapport with patients when they arrive at theatre at probably one of their most vulnerable times and they work to ensure that all goes smoothly with their care.
Sara Biffen, Chief Operating Officer at SaTH, said: "ODPs do invaluable work to make a patient's visit for an operation run as smoothly as possible.
"They are a caring and valuable part of the SaTH team, helping surgeons, anaesthetists and other staff prepare patients for their operations, ensure that everything is correct during the operation and being there for the patient when they come around.
"On ODP Day I would like to thank them for all that they do and recognise the caring and crucial role that they all play here at the Trust."
For more information on some of our amazing ODPs and the work they do caring for those we serve, please see some case studies below.
Meet some of our ODPs: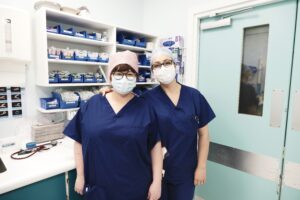 Ciara Edwards, ODP Apprenticeship at Royal Shrewsbury Hospital
Becky Mammone, ODP at Royal Shrewsbury Hospital
Ciara (left) started as a Healthcare Assistant (HCA) in Theatres at SaTH and was a HCA for five years before she embarked on an apprenticeship to become an ODP.
"For me, I wanted to do ODP training because I lost my dad a year ago. He was in ITU here and he was transferred here. It was the ODPs who helped him, revive him and the care that they gave him was phenomenal, so for me having lost a family member I want to help others in a similar situation. It was very special for me to continue to work in the Trust.
Ciara is now in her first year of a three-year apprenticeship as an ODP student. She is studying at Staffordshire University for a degree in Operating Department Practice.
"I didn't really know about the role of an ODP until I started as a HCA. I really loved the idea of doing all three aspects of being an ODP – doing a little bit on anaesthetics, scrub and recovery too. I like the fact it gives you patient contact and you ensure that they are safe while they are asleep."
"ODPs deserve the recognition because they work hard – they are involved in traumatic experiences if they go to Resus, they go on transfers with patients and massive emergencies. It's a hard-working job.
"We are really lucky in theatres – we have a good team, we enjoy who we work with. I love it!"
Ciara works alongside Becky Mammone (right) a qualified ODP, at Royal Shrewsbury Hospital.
"I am following in the footsteps of my mum, who is also an ODP at Christie Hospital. When my mum started, nobody really knew what the role was. I started training in Manchester and started as an HCA. I applied for my training and did a diploma at that stage.
"I qualified nine years ago and I like the diversity of it – my favourite part is anaesthetics, where we assist the anaesthetists get the patient ready for theatre and the surgeons. We position them on the table and ensure they are comfortable and won't come to any harm on the operating table.
"Everybody is terrified when they come through those theatre doors. It's building up the rapport with them and making them feel comfortable."
Ciara added: "We are a good tag team in there and you lighten the situation so that it doesn't seem so intense and terrifying.
"You think that could be my family member so you do go that extra mile to look after them and make them feel safe. That is why the care is incredible."
Becky added: "When a patient says thank you, you know that you have made that whole terrifying awful situation so much better for them and they are really grateful. That's what it hits home 'Yes, I think I did make a difference'."
And Becky's words of advice if anybody is thinking of becoming an ODP is: "It is amazing – go for it. It's rewarding and once you are in it you will never leave."
*******************************************************************************************
Lee Merrick-Davis, Principal ODP at Princess Royal Hospital (PRH)
Andy Hutchinson, ODP and team leader in theatre education at PRH
Lee (right) started as as 16 year old sterilising instruments at another Trust and then became a theatre support assistant. During his five years working in theatre he discovered more about the role of an ODP.
He went to Birmingham City University to study for the ODP diploma for two years and qualified in 2012. Lee moved to SaTH and then became Principal ODP in 2019.
Lee said: "In this role I am still clinical so I assist with the anaesthetist, the lists, supporting the anaesthetist and positioning the patient for surgical procedures.
"You are there as an advocate for the patient and support them on their journey. On the other side there is the clerical side – people will come to me with issues such as with stocks or equipment, I liaise with reps, rotas and occasionally co-ordinate the department, making sure that it is running efficiently.
"I like the fact that it is hands-on. It is quite technical with the machinery and equipment. I like the techy side of it and meeting different people all the time. You feel that you are hopefully making a difference to their lives."
"If you are a naturally caring person and want to make a difference it is a really good role to get into. There is a lot of teamwork with scrub side and surgeons – you would need to be a good communicator.
"We don't get to meet the patient beforehand, so the first time we see a patient is when they are being wheeled in (to theatre) and we see them for a few minutes carrying out checks. Before you know it they are asleep – you have just a few minutes to build up rapport and trust, where a surgeon and anaesthetist will have seen them before theatre."
He added: "ODP day is to celebrate ODPs and get more awareness of their role. You only really come here when you are at your most vulnerable time and you are not really taking anything in.
"You are on your own and you do not know what goes on, so it is difficult for people to realise what goes on in theatres."
Andy Hutchinson (left) is part of education team overseeing ODP training and development. He said there had been a lot of recruitment to train ODPs recently.
He said; "You see these TV programmes and you see a hospital theatre and assume it is all doctors and nurses, but it could all be ODPs in a theatre and nobody knows that because they do not know about the role of an ODP.
Andy says that the Trust likes to 'grow their own' with colleagues having started in theatre with no qualifications, enjoying their work and progressing through to become qualified ODPs.
"We can give them the education to develop. If staff like theatres and will want to stay in theatres – we can help develop their careers.
I still work some clinical shifts and a lot of my role is organisation, trying to liaise with students, universities etc.
"I have been qualified for 33 years and I like everything about it – caring for patients, seeing them come in with a fracture, for example, and you can make a difference in their lives. I don't think there are many jobs when you can get that sort of reward.
"The other thing I enjoy about it is the training side when you see a new person come into theatre on the first day and they are like a rabbit in headlights with everything strange and unusual – then three years later you oversee their training and development and they are then one of your colleagues working alongside you as a confident practitioner.  You see them on that journey of highs and lows, crises of confidence and help them get through. That is really rewarding."
"The skill set of an ODP enables them to do lots of things, which has been highlighted and is now used in other areas of the hospital. It is no longer just restricted in theatres, ODPs now work in ITU, pre-assessment, A&E and endoscopy. It enables us to have more interest.
"Being an ODP is the most rewarding career that not many people know about. It's something different every day. There is a caring but technical side to it. You are always learning even though I have been doing the job for 30 years there are still things I still not know."
Andy said SaTH was one of first trusts to start an ODP apprenticeship and that has meant the role of an ODP has been opened up to a wider group of people who may not have been able to do it before because of financial and personal commitments.
Andy started as an Operating Theatre Technician in the RAF which was the military equivalent of an ODP. He was in that role for nine years before joining the hospital as an ODP.