21 June 2022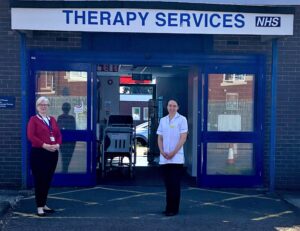 Dietitians here at The Shrewsbury and Telford Hospital NHS Trust (SaTH) play a valuable role not only offering advice to patients but working with colleagues to ensure the best outcome for all.
Dietitians Week runs until Friday 24 June and here at SaTH we have 25 dietitians and there are various specialities including paediatrics, Macmillan, community, acute and bariatric surgery.
We have been talking to two of our Dietitians – Marie Trahearn and Vivienne Love (both pictured above) – about their roles and how they have joined together to create a pathway to help our patients, which is already seeing results.
The pathway means that renal patients follow an 18-month programme to help them with weight loss so that they can go on the waiting list for a kidney transplant.
Marie is Clinical Lead Renal Dietitian and she and other colleagues in the department see patients who have Chronic Kidney Disease (CKD) as well as patients on dialysis in both an inpatient and outpatient setting. They educate patients on making changes to their diet to help stabilise their bloods and offer nutrition support to patients who are struggling with their eating and drinking due to the symptoms of their kidney failure or side effects of their treatment.
Vivienne Love is an Eating Behaviour Dietitian, Tier 3 Dietetic Lead and Functional Imagery Practitioner. She supports people to understand their eating behaviour in order to lose weight and those that she helps have a BMI of about 40.
She advises them on weight loss to improve their health and quality of life and for some patients to prepare them for bariatic surgery. Their teams work at clinics in the community, at the hospital and there are also group sessions.
Hayley Flavell, Director of Nursing at SaTH, said: "Dietitians Week is an ideal time to showcase the wonderful work of our dietitians at our Trust. Marie, Vivienne and their teams are passionate about their roles and put patients at the core of everything they do.
"By the teams working together and also with other system partners this pathway can develop and help not only those hoping to get on the kidney transplant list but also as a preventative measure."
Both Marie and Vivienne started as students in the department in 2009. They later specialised in their areas of mental health and renal. They both gained experience in other Trusts and Vivienne returned to SaTH in 2020 and Marie last year as clinical leads in their chosen specialisms of Tier 3 Weight Management and Renal.
Marie said: "We have since had the opportunity to work together as we were trainee supervisors overseeing trainee timetables and working together so closely for trainees also gave us opportunity to reflect how our services could collaborate in future."
While chatting over a coffee, the pair realised they could work even closer together with Vivienne's specialist weight management service working with renal patients on weight loss so they could get on the kidney transplant list, as they need to be at a certain BMI.
Marie said: "Losing weight pre-transplant surgery reduces the risks of surgical complications and improved outcomes post-transplant."
They now work with specialist renal transplant nurses and renal consultants and have also linked up with local authority healthy lifestyle teams and social prescribing teams to not only help those hoping to get on the kidney transplant list but as a preventative measure to offer support others before their kidney function deteriorates. Renal patients can now be referred via the GP into this service.
Marie said about her role: "You get to know patients and their families very well as they are generally within the service for a long time and it is rewarding when you can see them making improvements or we can provide support care."
Vivienne said: "I enjoy watching patients reach the goal that they have set and patients will often say 'they are getting their lives back' and they can do the things they want to do without their weight holding them back."
Look out on our social media channels to find out about Dietitians Week.