7 August 2019
Staff at the Trust that runs Shropshire's two acute hospitals are getting on their bikes to celebrate 'Cycle to Work Day' on 8 August.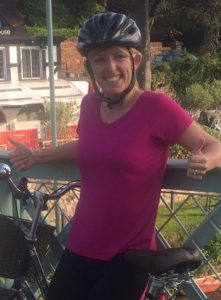 The Shrewsbury and Telford Hospital NHS Trust (SaTH), which runs the Royal Shrewsbury Hospital (RSH) and the Princess Royal Hospital (PRH) in Telford, supports staff who commute by bike, and many have taken advantage of these opportunities as a way to both help the environment and to improve their health and wellbeing.
Kate Marsh, a Physiotherapist who runs the Staff Fast-track Physio Service at RSH, took up cycling to work in April, and has today launched a staff blog where she and other colleagues write about their experiences on the roads. To read Kate's first blog, visit www.sath.nhs.uk/news-media/staff-blog
Alex Ford, SaTH's Sustainable Plan Travel Co-ordinator, said: "With over 100 staff cycling to work every day, it is fantastic to see colleagues and visitors using our cycle facilities at our hospital sites.
"By promoting active travel, we are demonstrating our corporate social responsibility whilst improving employee wellbeing and, importantly, reducing our negative impact on the natural environment, air pollution, traffic congestion and climate change."
A number of initiatives are in place at SaTH to promote cycling to work. These include:
A regular 'Dr Bike' service is offered at both hospitals, where staff can receive a free health check for their bicycles from a qualified bike mechanic who will make minor adjustments and advise whether any further remedial work needs to be carried out. The next Dr Bike is at PRH in August
The Trust also offers a 'Cycle to Work' scheme, allowing employees to buy tax-free bikes and accessories for their commutes
Dedicated, lockable bike shelters on both sites
Staff shower and changing facilities
Regular free cycle security and road safety advice from West Mercia Police and their Safer Roads Partnership team