12 May 2022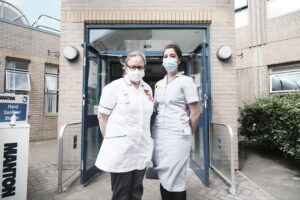 Nursing teams at The Shrewsbury and Telford Hospital NHS Trust (SaTH) are being celebrated today (12 May) to mark Nurses' Day.
The Trust that runs Shropshire's two acute hospitals is saying a big 'thank you' to its 2,088 nurses by spending the day recognising and rewarding their hard work and dedication.
This year, staff at the Trust will be gifted some goodies, including ice creams, in recognition of their compassion, selflessness, and resilience during some very challenging circumstances.
The courtyard at the Princess Royal Hospital and Captain Tom's Garden at the Royal Shrewsbury Hospital will both be lit up in blue throughout the day to help mark the occasion.
Some local school children have been busy making 'thank you' cards which will also be handed out to nurses throughout the day.
Hayley Flavell, Director of Nursing at SaTH, said: "It is so important that days like this are not overlooked but that we take the time to celebrate and thank our wonderful nursing colleagues.
"As a nurse, I know how challenging this profession can be, and that is without the added pressures of working in a global pandemic.
"The extraordinary efforts we've witnessed during COVID-19 is testament to our hard-working nurses and I could not be prouder of my colleagues.
"The role of a nurse is also incredibly rewarding. Nurses are often a source of great comfort and hope to patients during some of life's most pivotal moments.
"I would like to send a heartfelt thank you to all of my nursing colleagues for their compassion, resilience, selflessness and for going over and above to provide excellent care for our communities every single day."
Keep an eye on our social media channels throughout the day (Twitter – @sathnhs / facebook – The Shrewsbury and Telford Hospital NHS Trust / Insta – sathnhs) where we will be sharing some of our staff stories and highlights from the day.