13 January 2022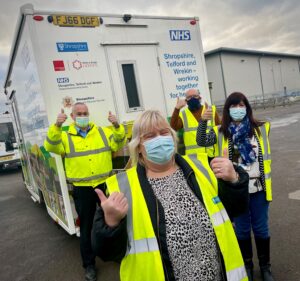 Thanks to the incredible efforts of Shropshire, Telford and Wrekin NHS partners, local councils, and volunteers, over 84.5% of eligible adults across the county have now received their booster jab. This follows a monumental effort from all involved over the past three to four weeks, over the Christmas period, where many people have given up their time to deliver the vaccine rather than spend it with their loved ones.
Steve Ellis, Deputy Senior Responsible Officer for the vaccination programme in Shropshire, Telford & Wrekin, said: "Our success is down to our fantastic vaccination teams who have been working tirelessly for more than a year to deliver vaccinations to the population of Shropshire, Telford and Wrekin.
"This has been a truly collaborative effort, with teams across the system working together and providing vaccinations through our GP-led PCN vaccination sites, community pharmacies, vaccination centres, hospital hubs, schools, care homes and various walk-in and mobile 'pop-up' sites.
"We should be proud of what has been achieved, but the job isn't done yet; our teams are still vaccinating on a daily basis, offering booked and drop-in clinics across the county. If you haven't had your jabs yet, whether it's your 1st, 2nd or booster, please do not hesitate to come forward and get the jab done."
Over the Christmas period, vaccination clinics held extended hours, opening on more days for longer hours with community pharmacists, GP practices and other vaccination teams working extremely hard. New vaccination centres were stood up such as the clinics at the Fire Stations across Shropshire and Telford International Centre. Vaccination Centres were also stood up in the busy shopping centres – Southwater, Telford and the Darwin Centre in Shrewsbury, providing convenient access to vaccination during the Christmas and sales shopping period.
Furthermore, the mobile COVID-19 vaccination buses, Bob and Betty, have and continue to do an excellent job of vaccinating people where vaccine uptake has been low. Since 13 December, over 1,700 first, second and booster vaccinations have been delivered across the county.
Rachel Robinson, Shropshire Council's Public Health Director, commented: "The mobile vaccination buses have both been a huge success, and it is great to see so many people taking advantage of the mobile units. We have seen over 247 people in these areas coming forward for their first vaccination, which is great to see that perhaps people who may have been hesitant are now coming forward and getting protected.
"The buses, Bob and Betty, provide a great opportunity for us to take the vaccine into areas of the county, where uptake may need to be encouraged or to our more rural isolated communities, enabling people to discuss their concerns and get vaccinated as conveniently as possible."
Liz Noakes, Telford & Wrekin Council's Public Health Director, said: "Betty the Bus has been a great success in Telford and Wrekin, with over 1,000 people having the jab on the bus. The bus has been particularly popular among the young people and young adults, we think responding to the convenience of having the vaccination clinic closer to where they live.
"The Omicron variant has spread extremely quickly, and we hope the vaccination bus will help improve access to the COVID vaccine whether it is your first, second or booster dose, it will help protect you, your friends and your family from the virus. Don' delay, get vaccinated today."
The majority of Shropshire, Telford and Wrekin vaccinations are by appointment through Primary Care Networks and Community Pharmacies, however there are walk-in clinics and an increasing number of pop-up clinics taking place at community venues even closer to where people live, including supermarkets, football grounds, community centres and homeless centres.
Steve Ellis, added: "Moving forward, we are particularly keen to encourage parents of children aged 12-15 to bring their children to a vaccination site or consent for them to be vaccinated in school, as well as encouraging adults aged 40 and under who weren't able to get their booster over the Christmas period for whatever reason, perhaps not being eligible or they may have been COVID-19 positive to come forward now and get jabbed."
"If anyone is feeling unsure about having the jab, please visit any one of the clinics to have a chat with the team – they are really passionate and enthusiastic about their work and will always be willing to talk through concerns and help you come to a decision."
For more information, or to check the walk-in or pop-up clinic times, visit the website: www.stwics.org.uk