9 September 2019
Four therapy colleagues from The Royal Shrewsbury Hospital are hoping to become World Coracle Champions this week, as they take to the water in aid of Macmillan Cancer Support.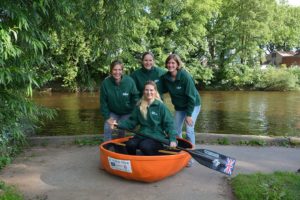 Competing with the team name 'Thera-peas', Shona Underwood, a Macmillan Physiotherapist; Laura Lewis, an Occupational Therapist; Jemma Pearson, a Frailty Specialist Physiotherapist and Anita Evans, a Neurology Specialist Physiotherapist, will take part in the Macmillan Coracle World Championships in Shrewsbury on Friday.
The team explains: "As therapists we all work with patients who have been affected by cancer and see the effects it can have on the patient and their loved ones.
"Taking part in the Coracle World Championships means we can have great fun whilst supporting an excellent cause in Macmillan and helping cancer patients and their families continue to receive the support they need. Our main aim, apart from raising lots of money, is to remain the right way up in our Coracle and not become soaked pea pods!"
The annual race, which has been going since 2015, sees teams of four people paddle a traditional coracle in a relay across the River Severn, with the winners being crowned World Champions. Since its launch the Macmillan Coracle World Championship has raised over £200,000 to help people affected by cancer in Shropshire.
To support Team Thera-peas, you can donate following this link: https://www.justgiving.com/fundraising/thera-peas
There are currently 39 Macmillan Services posts in Shropshire. They range from Macmillan GPs, to Clinic Nurses Specialists, Therapists, Support Managers and Benefit advisors and they all support the 17,000 people who are currently living with cancer in Shropshire.