22 February 2023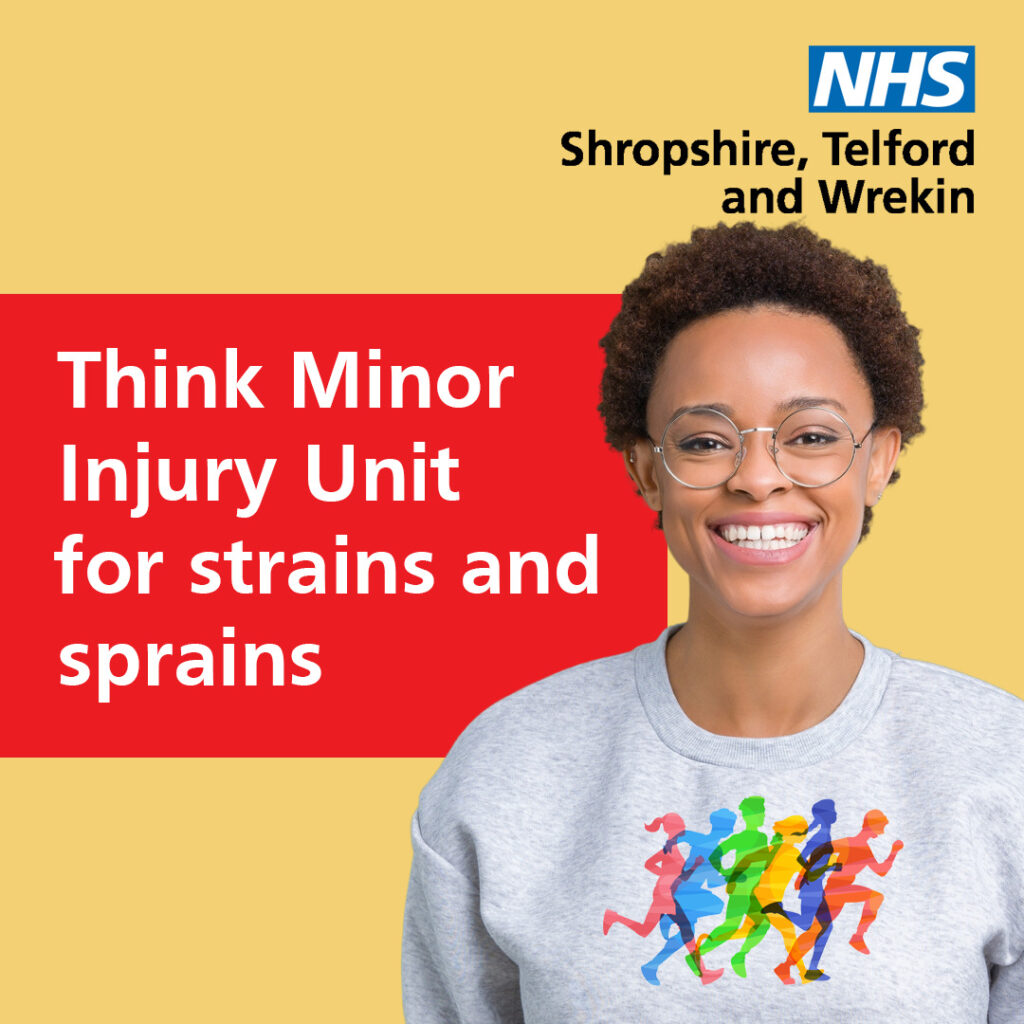 People in Shropshire, Telford and Wrekin are being encouraged to 'Think which service?' before acting when deciding on which local service is right for their healthcare needs, as part of a new local NHS campaign.
The campaign aims to help people get quicker urgent care in the most appropriate place and highlights NHS 111 online, the Minor Injury Units, and pharmacies as key urgent care services to use when they are unwell or injured.
Knowing which local health service to use and when, will make sure everyone in our local community gets the right help at the right time. When people need medical assistance, particularly in an urgent situation, it can be difficult to think clearly about what to do. Understandably, in this situation people will often head for the emergency department, which may not be the best place for them to get the treatment they need.
The 'Think which service?' campaign encourages people to familiarise themselves with local services and be prepared should they find themselves needing urgent healthcare.  A 'Think which service?' website has been set up to provide further information about when to use which urgent care service.
Dr Nick White, Chief Medical Officer for NHS Shropshire, Telford and Wrekin, said: "If you have an urgent care need which isn't immediately life threatening, there are a number of services for you to choose from visit the 'Think which service?' website so you know what to do should you need urgent care in the future. The site provides valuable information on our services, with information and real examples of which services to access and when.
"People don't always need to see their doctor or go to the A&E department. There are a range of other services available – from community pharmacies and NHS 111 online to our minor injury units.
"Knowing the treatment options available and when to use them will make sure everyone in our community gets the right help at the right time. Freeing up emergency care for those who need it most."
Dr Jess Harvey, GP at Much Wenlock and Cressage Medical Practice and clinical director for the Southeast Shropshire Primary Care Network, said: "General Practice is under immense pressure right now and we know that some people visit their GP with minor illnesses and ailments that their local pharmacist can help with. I would urge the public to consider whether they need to see a doctor immediately, or if other services such as their local pharmacy could provide the help they need, you will be seen quicker, and you don't even need an appointment – just visit at a time that suits you.
"Pharmacists are highly trained and experienced clinical professionals and can offer advice and treatment for a huge variety of illnesses and ailments. If required, they can also help you decide which service to use or whether you need to see a local GP or visit A&E."
"If you do contact your GP, depending on your clinical need, you may be offered an appointment with one of the many other healthcare professionals working within the practice team such as a nurse, paramedic, pharmacist, or physiotherapist. These team members are all very skilled and able to help."
If you are unsure of which service is right for you, NHS 111 online can help. NHS 111 online is a fast and alternative to heading to A&E, pointing you to the correct service and advice all from the comfort of your own home. You can also dial NHS 111 from a phone.
Think pharmacy before your GP. Pharmacists have longer opening hours than GPs and are highly qualified experts, who can give you the answers and medicine you need to start feeling better.
Minor Injury Units are there to help with injuries that need attention urgently but are not critical or life threatening such as sprains, strains or burns. Simply walk-in with no appointment needed. There are 4 Minor Injury Units in the county located in Bridgnorth, Ludlow, Oswestry and Whitchurch.
To find out more, people can visit www.thinkwhichservice.co.uk online and follow the campaign on social media using #ThinkWhichService.
Remember, 999 and A&E are for an emergency, or life-threatening situations only.