31 May 2019
The trust that runs Shropshire's two acute hospitals has approved plans to nearly double the number of nursing staff at its two A&E departments.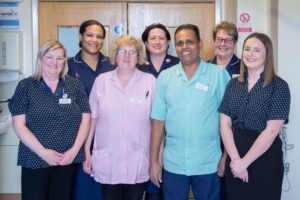 The number of full-time emergency department nurses at The Shrewsbury and Telford Hospital NHS Trust (SaTH), which runs the Royal Shrewsbury Hospital (RSH) and the Princess Royal Hospital in Telford (PRH) is now expected to increase from 78 to 149 by 2021/22.
 The plan, given the green light yesterday by the Trust's board, outlines that Staff will feel supported not only to perform well in their current roles, but to gain skills and experiences allowing them to progress through their career and remain at SaTH.
In addition, the recruitment of more senior level nurses will help to shape the working environment and develop a culture that is collaborative and patient focused.
SaTH's Medical Director, Dr Edwin Borman, said: "This is the correct recognition of the nursing challenges we face. It is the right thing to do for our nurses."
Dr Edward Rysdale, Consultant in Emergency Medicine, said: "Great news from Trust Board today approving the investment in our nursing workforce in the Emergency Department. It's going to be an exciting few years in emergency medicine."
This news follows on from the recent announcement that SaTH is investing £32 million in improving quality across its hospital sites.