22 July 2019
The Trust that runs Shropshire's two acute hospitals is introducing yellow name badges for its staff to improve patient experience and address barriers and inequalities for patients with visual and cognitive impairments.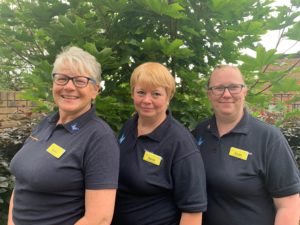 The new standard name badge for all staff consists of bold black text on a yellow background and incorporates the #hellomynameis logo to remind healthcare staff of the importance of introductions in a healthcare setting.
Having a coloured background to text increases contrast, which can support patients with both cognitive and vision impairment when reading information. Yellow has been chosen as it helps people with a cognitive impairment to process information quicker making it easier to read. Yellow can also stimulate people's minds as it activates the left side of the brain, awakening greater confidence and optimism.
The badges have already been introduced for members of the Dementia Team and the Executive Team at The Shrewsbury and Telford Hospital NHS Trust (SaTH), which runs the Royal Shrewsbury Hospital and the Princess Royal Hospital in Telford, and will now be rolled out across Ophthalmology, for all new starters, and when badges need replacing.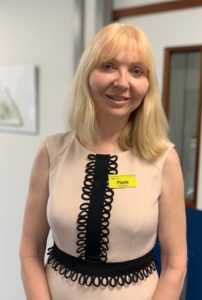 Ruth Smith, Lead for Patient Experience at SaTH said: "Small changes can make a difference. Through introducing eye-catching badges and making a mindful effort to introduce ourselves the first time that we meet someone, we are taking steps to improve patient experience and promote an inclusive environment.''
Karen Breese, Dementia Clinical Specialist at SaTH, said: "I am delighted we could move this forward. Hospitals can be confusing places and so as a Trust we need to do everything we can to improve our services."
The Trust's new names badges have been launched to coincide with #hellomynameis day on 23 July, which aims to aid patient-centred, compassionate care. Introduced by the late Dr Kate Granger with her husband Chris, the #hellomynameis campaign reinforces the belief that introductions make an instant connection and build trust between those who are unwell and vulnerable, and those who wish to help.