Remembrance Day 2021
As a Trust we are observing Remembrance Day to honour the lives that have been lost in service and to thank our Armed Forces. We are proud signatories of the Armed Forces Covenant, and today is a timely reminder of the strong ties between the Armed Forces and the National Health Service.
As a veteran aware organisation, our Chaplaincy Team will be holding services within the hospital Chapels on Thursday 11th November 2021 and Sunday 14th November 2021. Service times coincide with the two minute silence held at 11:00 to remember and honour service men and women.
To those of our colleagues and their families who have served, or are still serving, we thank you for your dedication. Here are some of their stories…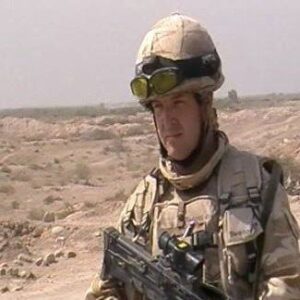 Paul Twitchell, Operating Department Orderly in SaTH's Main Theatres
Squadron: I spent the majority of my 23-year RAF career on 5131 (Bomb Disposal) Squadron
Served: I served 3 operational tours in Iraq on Op Telic. I also served in Oman, Kuwait, Falkland Islands, Canada, US, Germany, Cyprus and Italy.
I spend the 11th hour in quiet remembrance of my mates who fell during my military career, their commitment to Queen and country must never be forgotten but also the memories of their shining lives must continue. I remember Crofty's infectious laughter, I remember Rik's smile as he gave me a left hook during boxing training, I remember Si and Luke's professionalism before that fateful mission, I remember the glint in Andrew's eyes during his final helicopter flight, I remember Jo's terrible jokes and Lee's immature pranks. There are many more who I have the proud privilege to remember on a personal note and I hug them in my mind on the 11th hour. One day I will meet them again in the great NAAFI bar in the sky but for now I wear my poppy to let them know I will never forget them.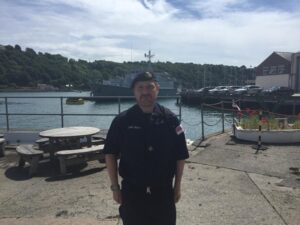 Neil Dunlop (joins SaTH on the 21 November as Chaplain)
Squadron: Royal Naval Reserve Chaplain to HMS Forward
Remembrance Day is important to me because I remember my grandfather who I sadly never had the chance to meet. At the start of the war, being a committed Christian, he struggled with the idea of causing harm to another person. Because of this inner struggle he joined the Royal Medical Corp and served for much of the war as a medic. Sadly, he died as a result of wounds taken in the closing stages of the conflict. His legacy is part of the reason why I joined the Royal Naval Reserve as a Chaplain. To, like he did, in some way attempt to help support and serve those in the military. Although still training, I serve as Chaplain to HMS Forward in Birmingham and have already provided cover when needed for regular Chaplains at some of our training bases.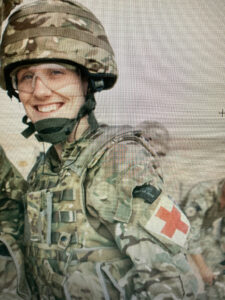 Emma Howells, Clinical Site Manager 
Squadron: 202 Field Hospital
Served: Afghanistan
Remembrance Day to me is remembering the fallen and those families who have lost loved ones due to conflict. Acknowledging the hardship they faced and the acts of resilience and heroism of those on the front line.
I work in the trust as a Clinical Site Manager and have a role as a 'Veteran Aware Champion'. I deployed to Afghanistan in 2014 with 202 Field Hospital on Op Herrick 19B. I worked as a nurse on the wards and as part of the Apheresis (Blood/Platelet collection) Team. It was a great opportunity to use transferable skills across the NHS and in my armed forces career.
Recently SaTH has re-signed the Armed Forces Covenant and is working hard to raise awareness of what it means to be 'Veteran Aware'. This is the commitment to former and current members of the Armed forces and their families. Links with Shropshire Council and other agencies and charities are highlighting any veterans that may need support that may not know where to go. This could be for advice or support about housing, finance, employment or highlighting events in the local area where they can meet other veterans. There are some great success stories of patients that have been identified by staff within SaTH and referred to these services.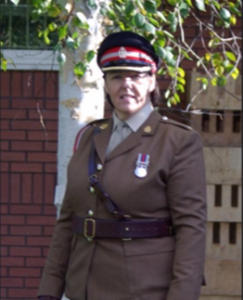 Lisa Walker, Quality Matron – Corporate Nursing Team
Squadron: Queen Alexandra Army Nursing Corps
Served: Afghanistan
Remembrance for me as a Veteran honours the sacrifice of our Armed Forces, Veterans, and their families. It acknowledged the courage of those who are serving and have served their country and we acknowledge our responsibility for working towards unity and peace to protect our way of life. I served for 12 years as a reservist and retired as a major in the Queen Alexandra Army Nursing Corps. It's a time where I reflect on my own experiences especially whilst deployed in Afghanistan in 2009 and the positive impact it had on me and my career.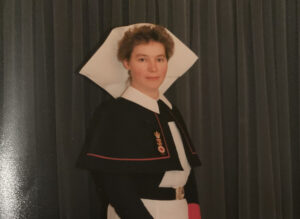 Judith Bennion, Senior Complaints Manager 
Squadron: Queen Alexandra's Royal Naval Nursing Service (QARNNS)
Served: Gosport and Germany
I joined the Queen Alexandra's Royal Naval Nursing Service (QARNNS) in January 1978 to commence my Registered Nurse training. Six years later I was promoted and received my commission as a Naval Nursing Sister (as pictured). QARNNS eventually came under the Naval Discipline Act and we were incorporated into the Royal Navy and our titles changed to reflect this and I became a Lieutenant as the RN rank.
I served at the Royal Naval Hospital Haslar in Gosport for most my 18 years' service. I had some service in Yeovilton Royal Naval Air Station, and at HMS Collingwood Royal Naval Base in Gosport. I also had the opportunity to serve with the Army in Germany during my training.  I finally left the Royal Navy in January 1996 exactly 18 years after joining up.
I was born in the post war era to parents who had first hand experience of older siblings who served in the Second World War. My father completed national service and we always had a strong sense of the sacrifices made for our freedom and right to live the lives we do without fear. I have memories of being huddled around our tiny TV watching the November ceremonies without ever dreaming that one day I would be able to play my part in them as a nurse and also as a sister. In the early 1980's during the Falkland crisis I lost a close friend making Remembrance Day much more personal. The 11 November is always one of my saddest and proudest of days. I had a long, happy and successful career in the QARNNS and latterly the RN and will never forget the price paid by those who went before me to allow that to happen.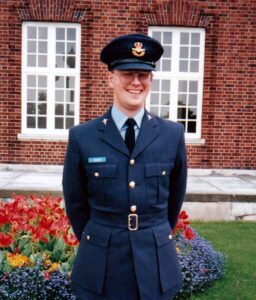 Matt Taylor, AV Technician at the Shropshire Education Conference Centre (SECC)
Served: In the Princess Mary's Royal Air Force Nursing Service
I served for 12 years in the Royal Air Force as a Nursing Officer. During that time I undertook a variety of roles working not only with other Branches of the Royal Air Force also with the Royal Navy and the Army. Three distinct organisations with one common ethos, comradeship and mutual respect.
Although I left the Royal Air Force over 20 years ago Remembrance Day for me is a time to reflect on my experiences and remember those who gave their lives for their Country. Equally important is to remember those who did return with mental and physical injuries and have tremendous obstacles to overcome on a daily basis. Remembering historical conflicts and those that have occurred more recently.