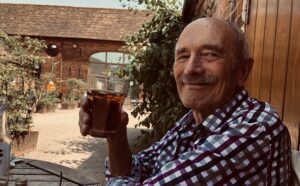 Ron Haseman, a patient treated at the Haematology Unit, sadly passed away in February 2023 after a two-year battle
with Myelodysplasia and Acute Myeloid Leukemia.
His family have raised £3,000 for SaTH Charity in loving memory of Ron. His family said: "Instead of funeral flowers, we
know that Ron would have loved to help raise funds to enable the Haematology Unit at the hospital to help more patients in the future."
Jo Haseman, Ron's wife of 25 years, said: "On behalf of Ron, and all the family, we would like to share our immense gratitude and sincere thanks to all the amazing nurses, who looked after Ron with such love and care."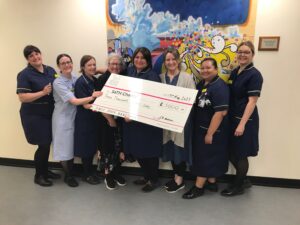 Reflecting on Ron's time on the unit, Julie Gooding, a Clinical Nurse Specialist who had the privilege of treating him, said: "Ron brought a ray of sunshine with him whenever he came in for treatment. His energy and spirit were truly extraordinary."
Ron was an accomplished storyteller and writer, having published three books. Ron wrote a poem called 'I Am The Air' that his wife Jo shared during his funeral, a poignant tribute to his spirit and legacy.
'I Am The Air' by Ron Haseman
I am invisible
For I am the air
I truly simply can't be seen
Yet I am everywhere
I love to tickle leaves on trees and tease plant fronds
I ripple the surfaces on all the garden ponds
I blow people's hats off
Then I chuckle in my glee
As they chase them around
For they can't see me
They huff me and they puff me
As they chase and they run
For I'm up their nose and out their mouths
It's really all great fun
I blow trousers full and shapely on ladies washing lines
Cause howling sounds throughout the night
Quite frighten myself at times
I'll wait to see a gardener carefully collect a pile of leaves
Then I sneak around behind him to scatter them with ease
I love to give a helping breath to the wings of every bird
And should a buzzard seek my warmth
He'll gain heights that are absurd
I can race around the whole world in but a few scarce days
Though I already exist there in so many various ways
I play at dodging rain-drops
Guiding snow-flakes as they fall
I love to blow my cold breath to keep ice firm and cool
For creatures who live at peace there away from mankind's rule
I howl across hot deserts causing eerie sounds and tunes
Love to frolic sometimes in the sand making huge and lovely dunes
I have a really free life, with hardly ever a care
And I know you won't see me
No matter how hard you might stare
For I am quite invisible
I am the air
Copyright © Ron Haseman 201