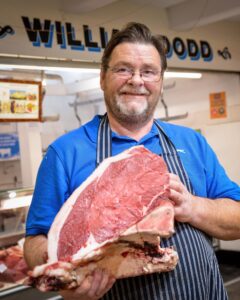 27 October 2023
The family of much-loved local butcher, William Dodd, are raising money in his memory for the ITU garden at RSH.
William, who was one of the longest serving stallholders in the Shrewsbury Market Hall, recently passed away after spending eleven weeks in the ITU department. He was a keen gardener, so in his memory the family want to improve the garden for patients who find themselves in hospital.
Having already raised over £4,000, William's family are undertaking two challenges to raise money for a gazebo and a wheelchair accessible bench for the garden. They are planning to swim the length of the channel on the 29 October at Bannatyne's Shrewsbury. They will undertake a second challenge on 26 November where the family will climb Snowdon in memory of their dad and grandad.
William's daughter, Claire Evans, said: "Dad spent 11 weeks on ITU where he was treated with kindness, compassion, and dignity. The care he received was second to none. The ITU staff tried their very best to take dad to the garden as much as they could."
Julia Clarke, Director of Public Participation, said: "We are grateful to William's family for fundraising to improve the ITU garden. This kind donation will greatly improve the garden for other patients and their relatives."
Natalie, a Therapy Assistant Practitioner for Critical Care, said: "Having access to outdoor space will be so beneficial for our patients' physical and mental health wellbeing. A huge thank you to William's family for thinking of the unit and fundraising for the garden."
If you would like to donate to the fund, you can find the link to the pages below: