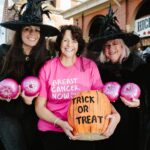 Former patient, Sally Jamieson, has been raising money for the SaTH Charity breast cancer fund since she was diagnosed in 2016 and has now raised over £10,000.
The money was raised from various events including a carboot, a Halloween Hunt for Radbrook School, a raffle, and a spooky trail which was organised in partnership with Hickorys Smokehouse.
In the family friendly spooky trail, participants followed spooky clues about the Quarry to receive a prize from the cauldron at the end.
On her fundraising page Sally said "Well the final figure is in £2,465!  Wow! Thank you all so much for your support. Everyone who has donated raffle prizes, bought raffle tickets, bought cakes, tombola, hot chocolates and attended the Spooky Trail.  Without your help and continued support this would not be possible.
And of course most importantly we have raised awareness and this money will support local people with breast cancer. We have also got an extremely important message out there 'check your pumpkins' "
All proceeds will go to a fund at SaTH to help purchase much needed equipment and training for the specialist breast care nurses.
(Image credit: www.shropshirestar.com)