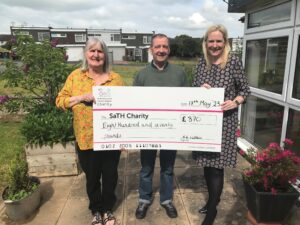 The residents of STAR Housing's supported living community at Wilkinson Avenue, Broseley have made an incredible donation to the Shrewsbury and Telford Hospital (SaTH) charity, raising an amazing total of £870 to support the Haematology unit at The Royal Shrewsbury Hospital. Ernest Wilkie, a resident at Wilkinson Avenue, wanted to give back to the unit where he received treatment.   With the support from his neighbours, they have raised a fantastic amount that will have a huge impact on the work carried out by the Haematology unit.
Ernest is a cherished member of the community and is renowned for his selfless acts of kindness. His neighbours admire him for his unwavering dedication to the community, including gardening in the community gardens, handywork around the community and providing support to his friends and neighbours. In recognition of his efforts, Ernest has recently been shortlisted for the "Tenant of the year" award at the national Housing Heroes Awards for 2023.
On Wednesday, 17th May 2023, staff from SaTH were on hand to accept the donation, pictured with the residents from Wilkinson Avenue, for the big handover. They were also joined by the Deputy Mayor of Broseley, Caroline Bagnall, who stated that "the people of Broseley had great pride for the Wilkinson Avenue community and what they have achieved". The residents were overjoyed at the success of their fundraisers and proud of the generosity and kindness shown by everyone who donated.
The money was raised by the community rallying together to organise various events for fundraising. This included coffee mornings and raffles. The efforts of the Wilkinson Avenue community were praised, with the funds raised making a significant contribution to the Haematology unit. Hannah Morris, Head of Public Participation, at SaTH said "It was a real pleasure to meet Ernest and members of his local community yesterday and find out about what they have been doing to raise money for SaTH Charity. We were amazed to find out it started with a goal to raise £50, and his fundraising efforts were so successful it raised almost £900 for our Haematology unit. Ernest's donation will make a real difference to our patients and their families, and it was lovely to see how the community came together to support our charity".
Tom Forty, Operations Director from STAR Housing praised the efforts of the Wilkinson Avenue community, saying, "We are proud of the spirit of community demonstrated by our residents at Wilkinson Avenue. Their fundraising efforts show their compassion and concern for their neighbours and their willingness to help those in need. Congratulations to everyone involved, and we hope that this donation will provide support to the Haematology unit at The Royal Shrewsbury Hospital."