Hello, my name is Chris Turner and I work as a physiotherapist in the out-patient department at RSH and also in the RSH fracture clinic.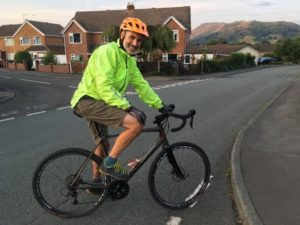 I moved to Shropshire in 2003 and have always tried to cycle to work the majority of the time, predominantly because I love being on my bike but with the added benefit of not having to find a car parking space every morning!
Initially this involved an 8 mile round trip to Ford, always cycling on the A458 footpath as I didn't feel safe on the main road.
Back in 2012 I moved to Church Stretton and although a slightly longer commute than I felt ideal I was happy to give it a go with the knowledge that the train station was just round the corner if I didn't fancy it or if the weather said 'no!'.
I have found a happy balance over the years and now cycle to work 3 days a week which adds up to almost 90 miles a week. I can't quite imagine being able to juggle a busy work & home life, as a parent to 3 lovely but 'energetic' children, without having this dedicated time to give me headspace and good old fashioned fresh air and exercise!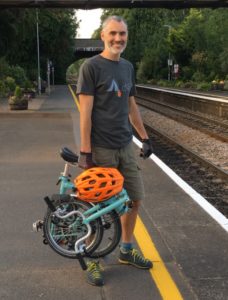 My commute takes me on the back lanes from Church Stretton, below the hills of Caer Caradoc and the wonderful Lawley, through muddy farmyards and over 2 cobbled fords before arriving on the A49 at Condover. I then ride up the Roman road before arriving at RSH and grabbing a shower before starting work.
Much to my wife's dismay I own 6 and a half bikes (unicycle!) and choose between them depending on my mood. Singlespeed if feeling strong, gravelbike if slippy and tourer if wanting to take it easy. One of them is a folding Brompton and this is particularly useful if taking the train as I can get my cycling fix through the Quarry.
I appreciate I am probably a bit of a bike nerd but would be happy to be contacted on chris.turner9@nhs.net by anyone who is wanting any advice or support regarding starting and finishing their working day in such an amazing and uplifting way – Go for it!