By Jules Lock, End of Life Care Lead Volunteer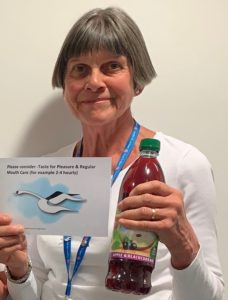 I work within a team of volunteers who ensure patients aren't alone at the end of their lives. The patients we keep company may have relatives who are unable to visit, or might not have any relatives at all. We can also step in when friends and family members need time away from the bedside.
We feel privileged to care for patients during their final days and we only have one chance to get it right, so we're proud to have introduced an enriching experience for them that we are hoping to roll out across the trust.
Some months ago, I sat with a patient over the course of a week as she reached the end of her life. Sitting with someone in this way focuses your mind and gives you time to contemplate your surroundings. We were in a newly-decorated Swan Room that had mood lights, a CD player and a warm, relaxing atmosphere, but something was written above the bed that made me feel uncomfortable.
The patient was lying beneath the words, 'Nil By Mouth'. The lady was barely responsive so eating and drinking were clearly out of the question, yet the ward staff were obliged to signpost this information.
It made me wonder how upsetting it must be for friends and family being constantly reminded as their loved one slips away that they will not eat or drink again. We take these fundamental processes for granted, and we share moments, both happy and sad, through food and drink.
When it comes to end of life care there aren't really any rules, and those that there are are made to be broken. With that in mind, we have introduced safe Taste for Pleasure for our patients, the language we use is so important & can make such a difference.
Taste for Pleasure means that when we give mouth care (cleaning and providing moisture to the mouth), we can dab the patient's favourite flavours on their lips. This can be any flavour, from blackcurrant squash to tea, all the way up to whiskey!
This simple change to the patient's routine not only aids their care within the hospital, it also opens up a conversation about their life, what their favourite food and drink is, and can remind them and their loved ones of joyful past experiences. One memorable patient received their mouth care with prosecco while their family members joined them with a glass of fizz. What a wonderful way to remember your loved one!
For the ward staff, who in my experience have always showed the utmost care, respect and diligence towards patients reaching the end of their lives, they can share patient mouth care with the family. Helping a loved one at the end of their life is so important and can allow family and friends to feel useful during a time in which they have little control.
The End of Life Care Team & Speech and Language Team are working together to change the culture of Nil By Mouth, and as staff at the Trust continue to join us by offering Taste for Pleasure, we feel confident that we can get it right and deliver the best possible care for our patients and their loved ones.
A standard operating procedure (SOP) for Taste for Pleasure can be found on the SaTH End of Life Care Intranet webpage for more guidance.