By Tony Twist, Dietitian
I recently got a new bike and it's made cycling so much easier as it's a couple of kilos lighter. I probably burn off fewer calories but can get out on it more!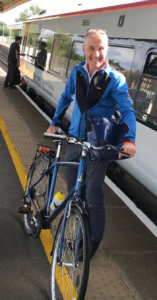 I also discovered that from the Castlefields suburb of Shrewsbury I can travel next to the river and up cycle ways practically the whole way to work at RSH!  No cycling in traffic and no exhaust fumes to breathe in. Biking bliss.
I'd already discovered that I could get the bike on the train to Gobowen very easily. Each morning this cuts chunks off the car journey to the Orthopaedic Hospital as traffic through Shrewsbury town centre can be tortoisely and tortuously slow.
There's a little group of Gobowen train commuters that currently leave me standing when it comes to the sprint from the station to the Orthopaedic hospital – even the one on the foldable bike!! The train has free wifi so I can be productive during my commute too.
Annoyingly, like a newbie to any cult I'm overly enthusiastic about it all and as soon as the bad weather hits I'll probably run for the motor! But for now I'm enjoying the extra awake feeling, the exercise and calmness, camaraderie and relaxed time to think as well as of course the thought that one more polar bear has been saved! (T+Cs apply!)