The majority of patients who currently attend Shropshire's two A&Es will still go to the same hospital as they do now if one of the emergency departments closes.
Patients currently treated for a variety conditions at the A&E Departments at the Royal Shrewsbury Hospital (RSH) and Princess Royal Hospital (PRH) in Telford would not need to travel to a new, single site Emergency Centre.
The proposed Emergency Centre would be supported by a network of Urgent Care Centres, one Diagnostic and Treatment Centre and Local Planned Care on both the RSH and PRH sites. Most people who currently need to be treated at A&E could, instead, be seen at the Urgent Care Centres (UCCs).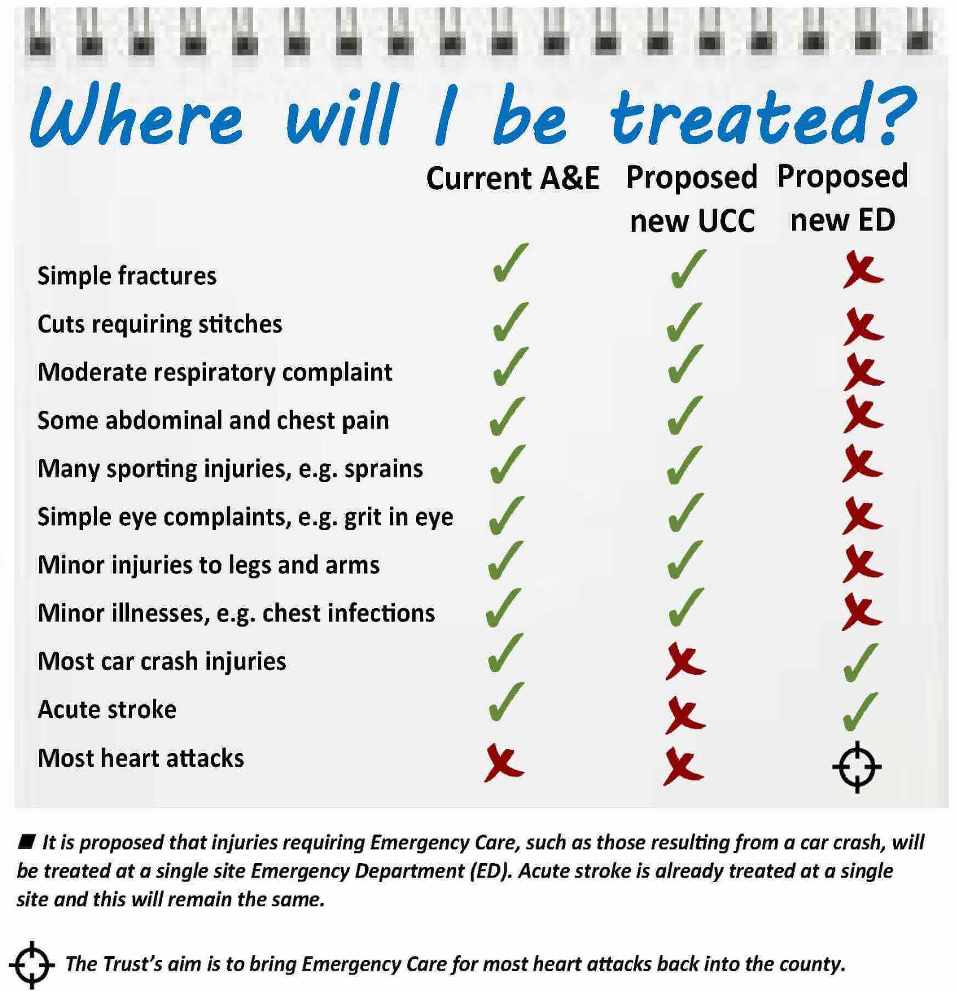 The proposed new UCCs would be able to treat conditions including:
Simple fractures
Cuts requiring stitches
Moderate respiratory complaints
Some abdominal and chest pain
Many sporting injuries, such as sprains
Simple eye complaints, like grit in the eye
Minor limb injuries
Minor illnesses like chest infections
More serious conditions, such as injuries caused by car crashes or people suffering acute stroke, would be treated at the proposed new Emergency Centre. In addition, the Trust would aim to bring the treatment for victims of most heart attacks back into the county. Currently patients need to travel to Wolverhampton for such treatment.
Mr Mark Cheetham, Care Group Medical Director for Scheduled Care, said: "There has been a lot of talk about the extra distance some of our pa
tients could have to travel if we create a single Emergency Centre, but some of this comes from a misunderstanding of what the proposed Urgent Care Centres are and what they can do.
"These UCCs will be able to treat the majority of conditions our patients presently present at A&E with. Only those who need the most specialised treatment that an Emergency Centre will provide will need to come to the ED.
"For those that need that level of specialist care, this single ED would bring together the right people under one roof. There is a whole body of evidence which shows that getting our patients the right treatment by the right people at the right time results in better outcomes for patients and, in the majority of cases, offsets any increase in travel time."
The case for a single Emergency Department serving patients in Shropshire, Telford & Wrekin and mid Wales, forms part of the recommendations in the Strategic Outline Case for the Sustainable Services Programme of The Shrewsbury and Telford Hospital NHS Trust (SATH), which runs RSH and PRH.
For more information visit Sustainable Services