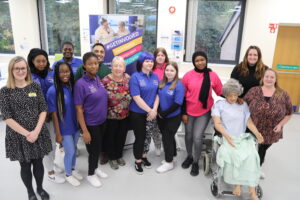 The Public Participation Team at The Shrewsbury and Telford Hospital (SaTH) have been celebrating their relationship with Telford College and some of their amazing students that volunteer with us across both hospital sites.
Poppy Horrocks, Young Volunteer Project Lead, was invited to Telford College to talk to students and see their simulation suite and simulation doll 'Betty'. Poppy spoke to students and teachers about the wonderful help and support volunteers provide within our hospitals and how important their roles are. Poppy's work with young people is vital as it helps them to gain experience in a variety of different wards and areas, inspiring them to pursue careers within the NHS.
The Public Participation Team work closely with Telford College, and other colleges in the area, to place students in appropriate and relevant volunteer roles that fit in within their college timetables. Often, students require experience of working in a healthcare setting for their course, or to support applications to Further Education. Volunteering benefits anyone wishing to pursue a career in healthcare; this can include careers in nursing/midwifery, allied health professions, medicine, and many other careers.
Julia Clarke, Director of Public Participation at SaTH, said: "We have 311 amazing volunteers currently working at SaTH, and we are so grateful to all our volunteers who enhance our patients' experience, support our visitors and relatives and support our staff.  Currently we have 170 volunteers who are under the age of 25 and our ongoing partnerships with local colleges is so important to us and as well as providing a great experience it can also help the students with their future career choices".
www.sath.nhs.uk/volunteers