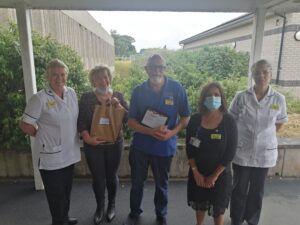 Peter Hicking, a SaTH Volunteer has received a special recognition after a glowing review from someone who could hear him from their window when he was volunteering in Phlebotomy at RSH…
Mandy Carnham, a research nurse for the Trust, wrote to the Volunteers office to say "I am fortunate enough to have an office with a window onto Elizabeth house and it has allowed me to overhear Peter directing patients when he is volunteering in phlebotomy. He is so kind and effective with these patients, has a smile on his face and does his job with exceptional professionalism every time he is there.
Can you please pass onto him that he is overheard being consistently excellent, it has not gone unnoticed how well he deals with these patients and I can see how difficult that is sometimes, he is always kind, gentle, accommodating with children and adults alike and he goes out of his way to make their time with phlebotomy as pleasant as it can be, that is really special and has an amazing effect on our patients.
He is amazing! I would like to thank him because what he does is exceptional and he is the embodiment of our values."
Peter has volunteered across a number of different areas and said "I enjoy volunteering and looking at ways I can continue to help the Trust and I am delighted that Mandy took the time to recognise my contribution".
Julia Clarke, Director of Public Participation, met with Peter and Bir-inder Ironmonger (Head Biomedical Scientist) and colleagues of Peter to deliver a thank you for all his work. Julia said "Volunteers make an enormous difference in our hospitals and allow us to go that bit further for our patients. It is wonderful that Mandy took the time to write something so lovely about Peter, and for him to get this extra recognition for the amazing work he does".
Do you want to highlight the work of a volunteer? Please email sath.volunteers@nhs.net and we will pass on your lovely words.