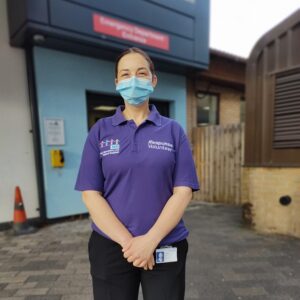 We are looking for volunteers to support patients, visitors and staff at SaTH in a non-clinical capacity. Our volunteers come from a range of backgrounds and can be anyone aged 16+, we have students wanting to gain experience, people wanting to explore new careers or just those who want to give back to their local community.
Become a Response Volunteer
Response Volunteers are assigned to a hospital rather than a specific ward or department. These volunteers carry a mobile phone, which means staff can contact them from across the hospital to help where it is most needed. They undertake  a wide variety of tasks including meeting and greeting visitors and patients, making deliveries of  patient belongings, urgent prescriptions or notes and helping patients to their appointments.
Response Volunteers also have the option to volunteer in ward areas or our Discharge Lounge to support our inpatients and staff with tasks such as providing company to patients, answering phones, supporting mealtimes and drinks rounds.
Help in A&E
Accident and Emergency Volunteers support the welfare of patients accessing our emergency services, this could be through navigating patients through the areas, providing refreshments or simply keeping them company. This new role is developing and is already valued by the busy nurses and doctors who appreciate having volunteer help.
Support armed forces personnel, veterans and their families
Our hospitals are working to increase staff awareness of the Armed Forces Covenant and to better identify military people using their services. We believe that Volunteers, with or without a military background, working in our hospitals are vital to the success of our mission.
Can you help?
Click here to find out more about these roles and other volunteering roles within our hospitals: www.sath.nhs.uk/volunteers.