Ann Allsop
Ann, who has worked at the Trust since 1999, is the Ward Manager for ward 16.
As Manager, a typical day involves ensuring the ward is safe in everything they do. Ann says her focus is on making sure that patient care is at the forefront of everyone's mind, and that the Trust values are followed through by all staff. She is also part of working within a wider team to ensure that stroke survivors get the best possible care.
Whilst she says staff shortages can be challenging, Ann's favourite part of the job is watching patients that have been through a devastating episode in their life battle through with the support of the team and get home. She adds that she also enjoys "working with the Ward 16 team – they are amazing".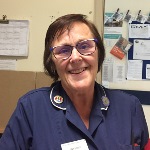 Tina Scott
I joined the SaTH Nursing Bank in 2013 having worked in Primary Care for a long period of time. I picked up some shifts on Ward 16 Stroke Rehab, on my first day I was made to feel very welcome and felt very much a part of the team, so much so that when an opportunity came up I became a permanent member of the team.
A while later an opportunity to return to Primary Care came along which I took, this did not work and I was welcomed back into SaTH. This led to me progressing and becoming a Band 6 Ward Sister on Ward 16 and in the Paul Brown Day Hospital where I have been an active member in the development of services offered to stroke patients.
In my time as a Ward Sister on Ward 16 I have started a Lean 4 Leaders course with full support from my Ward Manager.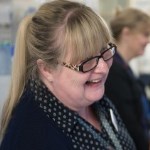 Elaine Wales 
As the Ward Clerk, Elaine's role involves finalising bank/agency shifts, helping with admissions and discharges, answering the phone, making sure paperwork is available and supporting the Ward Manager.
Elaine, who has worked at the Trust since 2005, feels that the most challenging element of the role is during any deviation from local ward guidelines. However she very much enjoys seeing how the patients improve during their stay in Rehab, and working with an "excellent, caring team".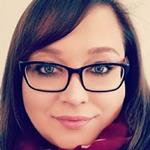 Sophie Donelly 
I started working for SaTH in March 2018, the recruitment day that I went to was a one stop shop, I was able to have my interview, take the necessary tests, find out if I was being offered a job and get to meet my new Ward Manager all in  one mourning.
I worked with my last trust for 9 years so I was nervous about starting somewhere new, however everyone at SaTH is friendly and very welcoming. When starting on Ward 16 I was given 2 weeks supernumerary and given a 'buddy' who I know I can go and talk to.
I have received all the necessary training which was well organised for me making the experience easy, and on those study days everything was organised and ran smoothly.
So far, I am enjoying being part of the Stroke Rehab team, the staff are all welcoming and helpful. The team is passionate about stroke and the rehab we can offer our patients.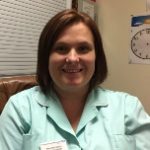 Trisha Reynolds
Trisha, a Healthcare Assistant on the ward, has worked at the Trust since 2014.
A typical day for Trisha involves caring for patients, keeping the ward clean and tidy, making sure patients keep up with diets and fluids, and stocking cupboards.
Trisha is keen to ensure that all staff working on the ward keep up the high standard that is currently set, and says her favourite part of her job is working with the patients and meeting new people.
Liz Winder
As a Staff Nurse, Liz's daily role includes handing over from previous staff, supporting patients to be involved in their care, continuing care plans, attending stroke progress meetings and having discussions with patients, families and wider teams that are involved in the care of stroke patients.
Liz, who began working at the Trust in 2001, says it can be challenging watching those affected by a stroke adapt, however seeing survivors and their families come back to the ward to show the staff how they have gained confidence and embraced their new adapted life is her favourite part of the job.